Basler Announces Flexible Processing Board for Vision Applications
Basler rethinks embedded vision: As a product highlight at embedded world 2021 DIGITAL, Basler presented an in-house developed Embedded Processing Kit that is optimized for flexible use in vision applications. Due to its design for industrial use, the development kit can be used not only for prototyping but also in series production. Developers can thus use the Embedded Processing Kit to achieve ready-to-use vision solutions very quickly.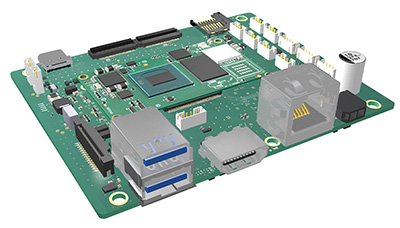 AHRENSBURG – At the start of embedded world 2021 DIGITAL, Basler presented an Embedded Vision Processing Kit that includes various interfaces for image processing and thus allows the connection of different camera types. The in-house developed board benefits from a flexible SoM and carrier board approach based on NXP's i.MX 8M Plus SoC.
The kit includes the reliable pylon Camera Software Suite, which provides certified drivers for all types of camera interfaces, simple programming interfaces and a comprehensive set of tools for camera setup. For vision applications, BCON for MIPI, GigE Vision and USB3 Vision are available as interfaces. Customers can configure cameras with a wide range of sensors and performance specifications from Basler's extensive portfolio. The flexible design, which is already geared towards industrial use, can be adapted to any vision project with little effort. For users, this results in less development effort and lower costs.
The application areas of the Embedded Processing Kit are extremely diverse and are located wherever fast time-to-market and price sensitivity are required. Thus it can be used in everything from factory automation, logistics and retail to applications in robotics, smart city and smart agriculture.
First functional samples will be available in April, general availability is planned for July. Further development steps towards volume production for use in products and projects as well as further variants with expansion of software support are planned.
Product Highlights:
Designed for flexible and demanding use in industrial environments
Compact design, suitable for commercially available standard housings
NXP i.MX 8M Plus with powerful Neural Network Processor Unit (NPU) and integrated Image Signal Processor (ISP) for extensive Machine Learning capabilities
Vision-optimized interfaces: BCON for MIPI, GigE Vision, USB3 Vision
Standard interfaces: HDMI, GPIOs, SPIs/I2Cs, LVDS, UART, CAN, USB2.0, WIFI, Bluetooth
Ready to start software: pylon API, camera driver, code samples
AI ready
About Basler
Basler is a leading international manufacturer of high-quality imaging components for computer vision applications. In addition to classic area scan and line scan cameras, lenses, frame grabbers, light modules, 3D products, and software, the company offers embedded vision solutions, that comprise consulting services, customer specific software development as well as customized products. Basler's products are used in a variety of markets and applications, including factory automation, medical, logistics, retail, and robotics. They are characterized by high reliability, an excellent price/performance ratio, and long-term availability. Founded in 1988, the Basler Group employs around 800 people at its headquarters in Ahrensburg and other locations in Europe, Asia, and North America. Thanks to its worldwide sales and service organization and cooperation with renowned partners, it offers solutions that fit for customers from a wide range of sectors.
Contact Basler
For more information contact Basler by phone at +49 4102 463 500 or by email.