Basler ace GigE and USB 3.0 in 2 MP HDTV Format
Basler ace GigE and USB 3.0 in 2 MP HDTV Format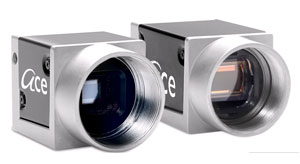 Basler is redefining the 2 MP camera class: The ace HDTV camera models list for just €199, offering unbeatable value for that level of performance. For the first time, 2 MP cameras are now becoming potential game changers for entry-level imaging applications.

Camera manufacturer Basler has expanded its ace camera family to include monochrome and color models in full HD format. The acA1920-25 cameras deliver speeds of 25 fps at 2 MP resolution (1920 pixels x 1080 pixels). They come with a Gigabit Ethernet or USB 3.0 interface and are 100% compliant with GigE Vision and USB3 Vision.

The new ace models offer unheard levels of value for the performance, redefining the 2 MP market segment to include the popular HDTV format. The attractive list price of €199 is competitive with equipment from the consumer electronics realm, which will allow businesses to upgrade and take advantage of the quality and technical benefits inherent to high-quality industrial cameras.

Product Manager René von Fintel explains: "The combination of 2 MP resolution, HDTV format and €199 price tag is revolutionary. We've opened a portal into the world of high-performance digital cameras for cost-sensitive machine vision users, such as those who need to establish monitoring of processes or equipment, industrial measurement applications, surveillance technology or broadcasting."