B&R software awarded PLCopen certification for Coordinated Motion
Standardization paves the way to the future

B&R's Automation Studio development platform now makes programming and configuring multi-axis systems easier than ever before. This is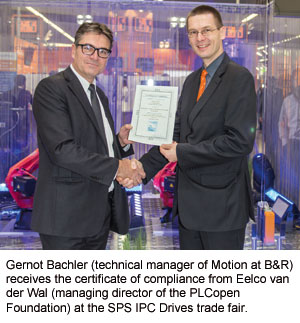 made possible with the addition of PLCopen-certified Coordinated Motion function blocks to the proven Generic Motion Control approach. B&R has constantly been adding to its portfolio of certified PLCopen blocks since 2004.
"Standardization paves the way to the future," stated Eelco van der Wal, managing director of the PLCopen Foundation, as he awarded the certificate of compliance at the SPS IPC Drives trade fair in Nuremberg, Germany. "Modular and individual machine concepts can only become reality when it is possible to easily swap out components from different manufacturers."
Vendor-independent
PLCopen Motion Control Part 4 – Coordinated Motion specifications encompass predefined function blocks and machine state descriptions that make it possible to control any multi-axis system with a standardized interface. "What these PLCopen blocks have done is made it just as easy to configure any type of robot – regardless of its kinematic structure – as it is to set up single axes," explains Gernot Bachler, technical man-ager of Motion at B&R. Identical command execution is guaranteed by the use of standardized interfaces. "Not a single line of code needs to be changed."
B&R company profile
As a global leader in industrial automation, B&R combines state-of-the-art technology with advanced engineering to provide customers in virtually every industry with complete solutions for machine and process automation, motion control, HMI and integrated safety technology. With industrial fieldbus communication standards like POWERLINK and openSAFETY as well as the powerful Automation Studio software development environment, B&R is constantly redefining the future of automation engineering.

B&R Industrial Automation, Inc. North America, based in Atlanta, GA, has been working closely with its customers since 1987. Since then, B&R North America has continuously grown as a sales and support organization through both direct sales offices and B&R's unique Automation Partner distribution network. Today, B&R North America has a network of more than 25 offices throughout the USA and Canada and is there for its customers locally.