B&R Simplifies Packaging Automation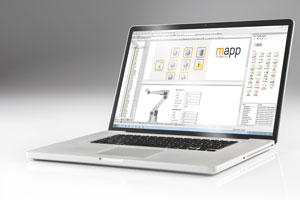 Innovations at PACK EXPO 2015
B&R Industrial Automation has developed automation solutions designed to simplify programming and improve performance and scalability. At PACK EXPO Las Vegas, this September 28-30, where 30,000 packaging professionals will come together, B&R will feature these latest innovations at booth# 5956 in the South hall.
Configure more, program less
North American packaging machinery users and OEMs appreciate the clarity of familiar ladder logic pro-gramming. But as machine functionalities become more sophisticated, ladder programs can become too complicated, even when supplemented by function blocks. Modular application (mapp) technology from B&R maintains familiar, IEC compliant ladder and function block programming – except with mapp components, more time is spent on configuring rather than programming.
mapp technology also provides a fast, easy way to implement OMAC PackML, the ISA TR88.00.02 standard for defining machine states, modes and tag naming conventions. With mapp Technology, machine control can be accessed and diagnosed down to the function block level without requiring dedicated software, special training or access to the source code.
Show attendees can see first-hand how mapp technology can cut programming time by two-thirds, while simplifying recipe changes, diagnostics, integration, and field modifications at the B&R booth. A B&R representative will also be present at the OMAC (Organization for Machine Automation and Control) booth# 1241 in the Central hall from 9:00-10:00 a.m. on Wednesday, September 30 ready to discuss the capabilities of mapp PackML.
High performance and scalability in a compact design
More and more, OEMs are looking to automation suppliers for solutions to help them achieve scalability in their operations. The new ACOPOS P3 from B&R is a three-axis servo drive that affords significant space savings in the control cabinet and includes integrated safety functions. It is suitable for both single and multi-use applications and can be scaled to meet a variety of performance and functional requirements at an attractive cost. And despite its compact design, it features a sampling time of 50 µs for the entire controller cascade, making it the fastest servo drive with safety functions on the market.
Other booth highlights will include the Automation PC 2100 - a fully equipped industrial PC with an ultra-compact form factor, IP69K rated stainless steel motors, secure remote diagnostics, as well as B&R's C-Series Power Panels, which are terminals with a built-in PLC, that use an Intel Atom processor to achieve cycle times down to 1 ms.
PACK Solutions Challenge
For the fifth year in a row, B&R Industrial Automation's Packaging Solutions Group is sponsoring the PACK Solutions Challenge, where teams from PMMI Partner Schools research and develop a real-world packaging solution. This year, students were tasked with creating a proposal for a dedicated line to package and ship a new fast-dissolve OTC product for the fictional company "Innovative Pharmaceuticals Inc." Show attendees can view the students' proposals and vote for their favorite at the Education & Workforce Development Pavilion at PACK EXPO. The winning team will be announced at 3:30 p.m. on Tuesday, September 29 in the B&R booth.
About B&R
As a global leader in industrial automation, B&R combines state-of-the-art technology with advanced engineering to provide customers in virtually every industry with complete solutions for machine and process automation, motion control, HMI and integrated safety technology. With industrial fieldbus communication standards like POWERLINK and openSAFETY as well as the powerful Automation Studio software development environment, B&R is constantly redefining the future of automation engineering.
B&R Industrial Automation, Inc. North America, based in Atlanta, GA, has been working closely with its customers since 1987. Since then, B&R North America has continuously grown as a sales and support organization through both direct sales offices and B&R's unique Automation Partner distribution network. Today, B&R North America has a network of more than 25 offices throughout the USA and Canada and is there for its customers locally.
Company Contact
Yvonne Eich - Marketing Communications Manager
Tel: +1 (770) 772-0400