B&R Presents New Generation of HMI Panel Interface
Digital display transmission with SDL4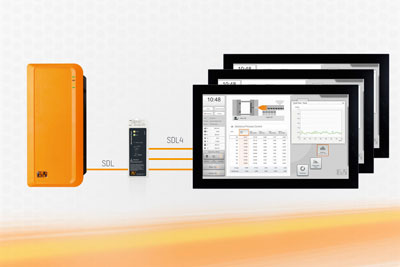 B&R recently introduced the fourth generation of its display transmission technology, Smart Display Link (SDL). SDL4 is based on HDBaseT 2.0 and can span up to 100 meters between the industrial PC and display device. This makes it easy to equip expansive machines and systems with multiple remote HMI panels.
Up to 100 m
SDL4 makes it possible to transmit display content and other data over much greater distances. It's possible to span up to 100 meters between PC and display. An additional highlight of SDL4 is its use of standard Ethernet cables, which drastically reduces cable costs over longer distances. The thin cable and slim RJ45 connector are a perfect fit in tight situations such as feed-through openings and swing arm systems.
Up to 4 HMI panels per PC
An SDL4 converter allows up to three panels to be connected to one Automation PC. A fourth Automation Panel displaying different content can also be operated via an additional SDL4 interface. This is B&R's response to the needs of modern manufacturing systems, which increasingly feature multiple locally-mounted operator panels.
Independent of operating system and software
The modular design of B&R's PC and panel systems allows any Automation Panel to be equipped with an SDL4 interface. SDL4 transmission technology is independent of software and operating systems and integrates all communication channels – including USB, touch screen and function keys – in one single cable. SDL4 transmits all signals uncompressed and in high resolution for optimum image quality.