B&R offers versatile operator panel for mobile machinery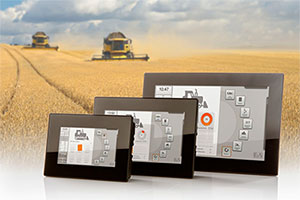 Smooth operator in rough conditions
B&R is expanding its mobile automation portfolio to include the Power Panel T50 mobile. The operator panel offers highly reliable operation for agricultural, construction and municipal vehicles. It is available with display diagonals of 5", 7" or 10.1".
The Power Panel T50 mobile's die-cast aluminum housing provides the necessary mechanical rigidity. With IP67 protection, it easily handles heat, cold, dirt, moisture, shock and vibration. The projected capacitive touch screen can even be operated in the rain. With no fans or batteries, it's also maintenance free.
Compact and space-saving
A compact design, shallow installation depth and optimized arrangement of cable outlets make the Power Panel an easy-to-mount space saver. Available mounting types include standard brackets, panel mounting or front plate mounting.
Web-based HMI
The versatile Power Panel has an embedded browser for viewing HMI applications created with B&R's mapp View software. Built on the web standards HTML5, CSS3 and JavaScript, mapp View ensures optimal viewing on any device. B&R offers a multitude of widgets that can be dragged and dropped into place to create attractive user interfaces with gesture operation.
Numerous interfaces
The Power Panel T50 mobile is easy to configure. Its Ethernet interface on an M12 connector allows for communication with the X90 controller, which acts as an HMI server. The supply voltage, a USB port and digital I/Os can be found on the Superseal multi-connector.