B&R Introduces New functions in SafeDESIGNER 3.1
Numeric range of functions expanded

The latest version of B&R's SafeDESIGNER tool now makes it possible to process and compare safe INT and DINT signals in addition to linking them mathematically to basic arithmetic operations. Safety-oriented function blocks are also available for converting INT and DINT values in either direction. This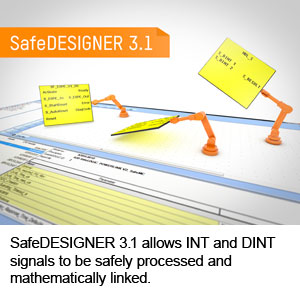 expansion now rounds off the full numeric range of functions for the Automation Studio 4 development and configuration tool.

New requirements
Safety applications increasingly require numeric functions to manage values for pressure, temperature and speed. Since its introduction in 2008, SafeDESIGNER has provided support for safe INT data types and associated arithmetic operations and comparison functions. This range of functions has been continuously expanded ever since.

Monitoring synchronous operation
Users of Smart Safe Reaction technology from B&R can now process safety-related speed and position values and use them to initiate safe machine states. These functions are perfect for cases where requirements go above and beyond the possibilities provided by prepackaged safe motion functions. Possible scenarios include integrating additional safe rotary encoders in a safety application or monitoring several power transmission systems for synchronism. In process control applications, SafeDESIGNER has become a widely used tool perfectly suited for the safe processing of pressure, temperature and flow signals.

B&R company profile
B&R is the world's largest and most successful private company in the area of automation equipment manufacturing. The motto "Perfection in Automation" has provided the foundation for the company since B&R was founded in 1979. Today, B&R employs 2,500 employees worldwide and has an exceptional global presence with 175 sales offices in 75 countries.

As a global leader in industrial automation, B&R combines state-of-the-art technology with advanced engineering to provide customers in virtually every industry with complete solutions for machine and process automation, motion control, HMI and integrated safety technology. With industrial fieldbus communication standards like POWERLINK and openSAFETY as well as the powerful Automation Studio software development environment, B&R is constantly redefining the future of automation engineering.

B&R Industrial Automation, Inc. North America, based in Atlanta, GA, has been working closely with its customers since 1987. Since then, B&R North America has continuously grown as a sales and support organization through both direct sales offices and B&R's unique Automation Partner distribution network. Today, B&R North America has a network of 25 offices throughout the USA and Canada and is there for its customers locally. For more information, please visit www.br-automation.com.