B&R Integrates Vision into Machine Automation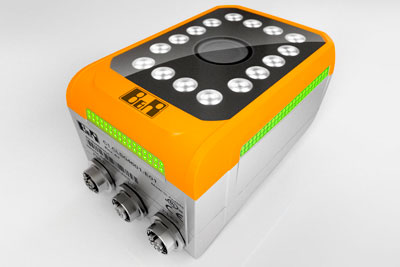 Automation specialist introduces image processing solution
B&R makes machine vision an integral element of the automation ecosystem. At this year's SPS IPC Drives, B&R introduced the world's first image processing solution to be seamlessly incorporated in the automation system. The solution comprises cameras, software and lighting accessories.
At the heart of the solution is a broad selection of intelligent camera technology. Options at the lower end will replace simple machine vision sensors, while the top of the range will harness the full potential of high-end smart cameras. Ready-made software components are available for creating applications with minimal new programming.
Intelligent lighting
Lighting elements are available integrated in the camera, as an external device, or even as a combination of the two. Extremely precise synchronization for high-speed image capture and object-specific functions such as bright-field or dark-field illumination are easy to implement. Image triggers and lighting control can be synchronized with the rest of the automation system in hard real time and with sub-microsecond precision.
B&R's machine vision system is integrated on every level: the engineering tool, the real-time operating sys-tem and the application software. With a single development environment for every aspect of automation, controls engineers will now be able to implement many machine vision tasks on their own.
About B&R
B&R is an innovative automation company with headquarters in Austria and offices all around the world. On July 6, 2017, B&R became a business unit of the ABB Group. As a global leader in industrial automation, B&R combines state-of-the-art technol-ogy with advanced engineering to provide customers in virtually every industry with complete solutions for machine and factory automation, motion control, HMI and integrated safety technology. With Industrial IoT communication standards like OPC UA, POWERLINK and openSAFETY as well as the powerful Automation Studio software development environment, B&R is constantly redefining the future of automation engineering. The innovative spirit that keeps B&R at the forefront of industri-al automation is driven by a commitment to simplifying processes and exceeding customer expectations.