B&R Germany Under New Leadership
Markus Sandhöfner takes over as general manager

Markus Sandhöfner became the new general manager of B&R Germany at the beginning of this year. Sandhöfner – a specialist in the field of automation engineering – took over from Frank Winter, who led the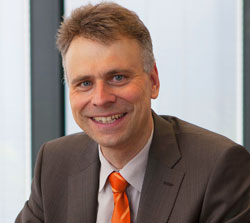 company in Germany with great success since its founding in 1983. Winter will continue to assist the company in an advisory capacity.

Sandhöfner has held various positions at B&R over the past 13 years and been part of the B&R Germany management team since 2010. He is a native of Baden-Württemberg and has 20 years of experience in the area of machine manufacturing.

After studying machine manufacturing and mechanical engineering, he began his career at B&R headquarters in Eggelsberg and played an important role in establishing the subsidiary company in the USA. B&R USA now has 25 offices and has become very successful in the American market.

Focusing on customers
"Together with our customers, we want to further increase our strength in the market," says Sandhöfner, defining B&R Germany's primary goal for the coming years. Working closely with customers and offering an extensive range of services will also remain central elements. "With many new products and innovations, we will be able to further increase our customers' competitive edge."

B&R company profile
B&R is the world's largest and most successful private company in the area of automation equipment manufacturing. The motto "Perfection in Automation" has provided the foundation for the company since B&R was founded in 1979. Today, B&R employs 2,500 employees worldwide and has an exceptional global presence with 175 sales offices in 75 countries.

As a global leader in industrial automation, B&R combines state-of-the-art technology with advanced engineering to provide customers in virtually every industry with complete solutions for machine and process automation, motion control, HMI and integrated safety technology. With industrial fieldbus communication standards like POWERLINK and openSAFETY as well as the powerful Automation Studio software development environment, B&R is constantly redefining the future of automation engineering.

B&R Industrial Automation, Inc. North America, based in Atlanta, GA, has been working closely with its customers since 1987. Since then, B&R North America has continuously grown as a sales and support organization through both direct sales offices and B&R's unique Automation Partner distribution network. Today, B&R North America has a network of 25 offices throughout the USA and Canada and is there for its customers locally.