Award-Winning, Chip-Proof Cable Carrier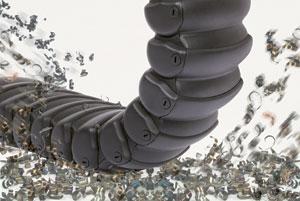 EAST PROVIDENCE, R.I. – igus®, a manufacturer of cable carrier systems for automated machinery, now offers an energy tube especially for the machine-tool industry that is nearly 100 percent chip-proof. The RX energy tube ensures all debris simply falls off and was recently awarded the iF product design award 2010 , which is internationally recognized as a marker for good design.
The award-winning RX energy tube has a specially designed, smooth domed outer contour from which debris—such as metal or wood chips—simply falls off. Since its launch in 2009, the RX energy tube has been further optimized to deliver even better performance. A second series of comprehensive tests—including underwater experiments and tests measuring chip-mass penetration—have been carried out in igus' test laboratories to confirm the energy tube is nearly 100 percent airtight.
Despite its design, the RX energy tube can be easily opened using a screwdriver to unscrew bolts integrated into the outer radius of each link. There is also a very large interior space for cables and hoses, which can be separated using vertical separators and a horizontal shelf to safely route cables and hoses and thereby preventing abrasion. Both these features mean maintenance and machine downtimes are reduced to a minimum.
The new energy tube is now available with an interior height up to 2.20 inches and is ideal for short, self-supporting lengths inside tooling machines. The chip-proof cable carrier is also designed for use in reverse bending radius (RBR) applications. A high-temperature version, made from the special high temperature material "igumid HT" is available. This version ensures that even red-hot chips up to 1,562 degrees Fahrenheit fall off the tube rather than melt onto it. The enclosed cable carriers can be delivered as pre-assembled ReadyChains®, harnessed with cables, hoses, and internal separators, as required by the customer.
Enclosed plastic energy tubes from igus have been used prominently for around twenty years in many different industries. Dust, dirt, oil, moisture, heat and cold have no affect whatsoever on these sturdy cable carriers. Please call 1-800-521-2747 for more information.
About igus
igus develops industry-leading Energy Chain® cable carriers, Chainflex® continuous-flex cables, iglide® plastic plain bearings, igubal® spherical bearings, DryLin® linear bearings and guide systems. These seemingly unrelated products are linked together through a belief in making functionally advanced, yet affordable plastic components and assemblies. With plastic bearing experience since 1964, cable carrier experience since 1971 and continuous-flex cable since 1989, igus provides the right solution based on 70,000 products available from stock. No minimum order required. For more information, contact igus at (800) 521-2747 or visit www.igus.com.