AVT Showcases Cameras Featuring New Un-Released CCD Sensor at Automate 2013
rong>Allied Vision Technologies will offer a sneak preview of two early camera prototypes featuring a brand new CCD sensor from a leading sensor manufacturer at Automate 2013 in Chicago (January 21-24, 2013).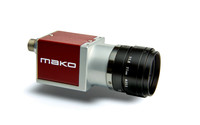 As a world-leading machine vision camera manufacturer, Allied Vision Technologies works closely with major sensor manufacturers on assessing new sensor designs in the development phase. This gives AVT the opportunity to implement attractive new sensors very shortly after they have been released. The Manta G-409 and Mako G-409 will feature a new 4 Megapixel (2024 x 2024), 1:1 image ratio, 1/1.8" class CCD sensor. It will deliver 21fps in the Manta camera family and 11fps in the Mako series. Both cameras are expected to be available later in 2013.

About the Manta: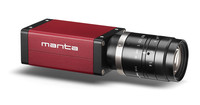 AVT's Manta camera family offers feature-rich GigE Vision cameras with an outstanding price/performance ratio as well as many modular options such as PoE (Power over Ethernet), angled head variant, and/or sensor variants, and a robust housing to fit into any applications. In addition the Manta family provides the widest sensor range from VGA to 9MP in class.

About the Mako:
The Mako is a 29x29mm ultra-compact mainstream machine vision camera with an excellent price/performance ratio. It includes the latest fast and sensitive CCD and CMOS sensors, a high-quality robust housing, and Power over Ethernet (PoE). Optocoupled I/Os (1 in, 3 out) ensure an easy integration. Seven Mako models with GigE Vision interface and resolutions from VGA to 4 megapixels will be available in the first quarter of 2013. The Mako will also be available later in 2013 with a USB3 Vision interface.