AVAL DATA CoaXPress Frame Grabber APX-3664 Debuts Into Its Machine Vision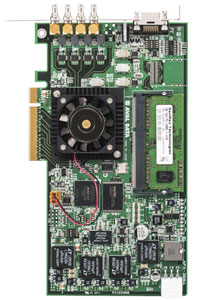 APX frame grabber series with CoaXPress
AVAL DATA frame grabber APX-3664 earning the CoaXPress logo of approval include the high-performance up to25Gbps (up to 3.4GB/S on DMA) , the industry's first quad CoaXPress frame grabber that benefits:
from the CoaXPress to reach beyond CameraLink
A most cost-effective in the world
Acquires from multiple independent cameras at once without no CPU offload
Ensure reliable transfer to a host memory by a way of PCIe(R) 2.0 x8 lanes via a on-board buffering
Reduce cabling complexity and power supplies by a way of Power Over CoaXPress ( PoCXP) support
Simplify your system using the AVAL DATA SDK TransFlyer (TF) tool-chain on 32-bit/64-bit Windows(R) 7/8
Comply with over 20 CoaXPress cameras from world wide
About AVAL DATA
AVAL DATA , a global company with headquarters in Tokyo and manufacturing and R&D in Japan, is the international quality assurance standard ISO 9001 in 1995 and the ISO 14001 certification in 2001certified As well as AVAL DATA's products are application-ready for industrial automation, communications, medical and industrial embedded computer market over 56 years.
Embedded Vision
This content is part of the Embedded Vision curated collection. To learn more about Embedded Vision,
click here
.