Automation: The Next Five Years – What You Need to Know
In today's challenging environment, manufacturing & logistics firms are accelerating automation deployments into more and more applications and expect to do so for many years. It's up to automation experts, with an eye to the future, to help the industry address quickly evolving challenges with innovative automation solutions. With three of the most innovative and successful new automation companies in its Industrial Automation Group—AutoGuide Mobile Robots, Mobile Industrial Robots (MiR), and Universal Robots, Teradyne is in a unique position to take the long view required.
This long view gives Teradyne and its robotics companies greater insight into big-picture industry needs that span technologies and applications. In a roundtable discussion hosted by the Association for Advancing Automation (A3) on November 5, the leaders of Teradyne's robotics companies—Rob Sullivan of AutoGuide, Soren Nielsen of MiR and Jürgen von Hollen of Universal Robots, along with Teradyne executive VP Walter Vahey—came together to discuss the biggest challenges in the industry today and how to plan for the future. More than 1,300 people registered for the roundtable, which was moderated by Alex Shikany, the VP of membership and business intelligence at A3. (WATCH THE REPLAY: Sign up here to watch the entire discussion)
Here's an edited summary of some of the key topics discussed:
Please outline Teradyne's vision and what trends you're seeing in the marketplace that brought these three robotics companies into your industrial automation group?
Vahey: The markets we serve in industrial automation—manufacturing, logistics, ecommerce, warehousing—will need automation for years to come. Bringing these companies into the Teradyne fold lets us provide automation solutions that are easy to use, easy to deploy, collaborative, flexible and safe around human workers. In terms of our philosophies, all three companies—MiR, AutoGuide and UR—are run by good strong teams; they're innovative; they're leaders in their spaces; they've won major customers, so our philosophy is for them to continue to serve their markets, and focus on the areas where they've been strong.
What are you doing differently to connect with manufacturers and other customers ready to automate, even during this ongoing pandemic?
von Hollen: While our larger customers are pretty independent, the smaller customers and prospects rely on support from UR and our partners. We continue to build awareness, although Covid has brought all of our awareness-building activities online, from lead generation to proof of concepts and even launching new technologies or products. From that perspective, it's actually been one of the key drivers of our business from an internal process-perspective, and an external go-to-market perspective. What's been reinforced for us during the time is the market's number one need—flexibility. This underlines what we're producing from a technology perspective, which is also flexibility. We've seen that during COVID, when companies had to quickly repurpose their production lines. That was a drive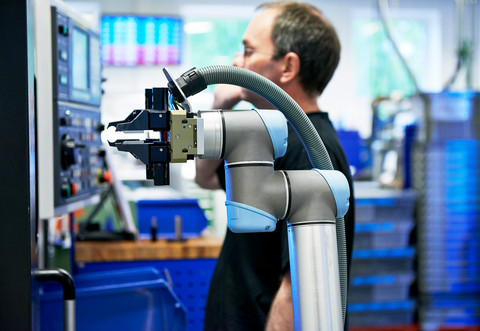 r for us because it's so simple to use the technology. COVID has maybe just underlined the importance of flexibility and business continuity for many companies out there.
Sullivan: We needed to install a couple of our high-payload AMR robots at a facility in Germany. We couldn't get our US installer to Germany because of the travel restrictions imposed by COVID. Instead, we trained our German integrator to do the install using a wearable VR headset from RealWear. We supported our integrator virtually, and they were able to successfully install the AMR system in the customer's facility in just a few days, without impacting the project timeline. Utilizing the latest technologies in creative ways has allowed us to avoid project delays and has been key for us during this difficult time.
Nielsen: Last year, we built a training & demo center in Denmark, and it's been virtually empty because nobody has been allowed to come here. But that has allowed us to focus more on our MiRAcademy, which is a digital learning platform that was actually launched before COVID. As might be expected, the interest has been much higher than it was before COVID, so it's now our primary way to train our customers and partners.
Technology is rapidly advancing, as is the emphasis on connected manufacturing or smart factories collecting data. How do you see advancements like AI, 5G, etc. evolving your AMR solution? And what does it mean for the customers at the end of the day?
Nielsen: We are constantly adding different technologies, algorithms and software into using sensors in different ways, and it basically has one purpose: to make the robots perform in increasingly more difficult environments. If we look back 3-5 years ago, the mobile robots required more adaptation from the environment to be successful. We're moving those boundaries all the time. And we're both doing it by adding sensors, adding algorithms, adding cameras, and adding a lot of software to improve the performance of the product. Over time, we will be able to do more and more difficult things with higher density of robots such as handling more difficult traffic situations, increase safety and even drive faster.
As for 5G specifically, it's going to be a game changer, at least for mobile robots. We don't demand a lot of infrastructure, so you can get started with one robot, even without a WiFi infrastructure. As soon as you add a fleet, however, you need WiFi. The problem is that many WiFi installations aren't made for mobility so there can be some issues when you start deploying more and more robots on a WiFi system that wasn't actually built for mobility. With 5G, however, we'll get ultra-reliable and ultra-fast communication, which offers stability. This means we can add more robots and they will be deployed and run without any interruptions. We can also start moving safety from an individual robot level into a system level and move processes that are happening today on the robot into the fleet level or into the edge computer level where there's plenty of computing power. It also means we can make the robots smaller and more intelligent by putting mo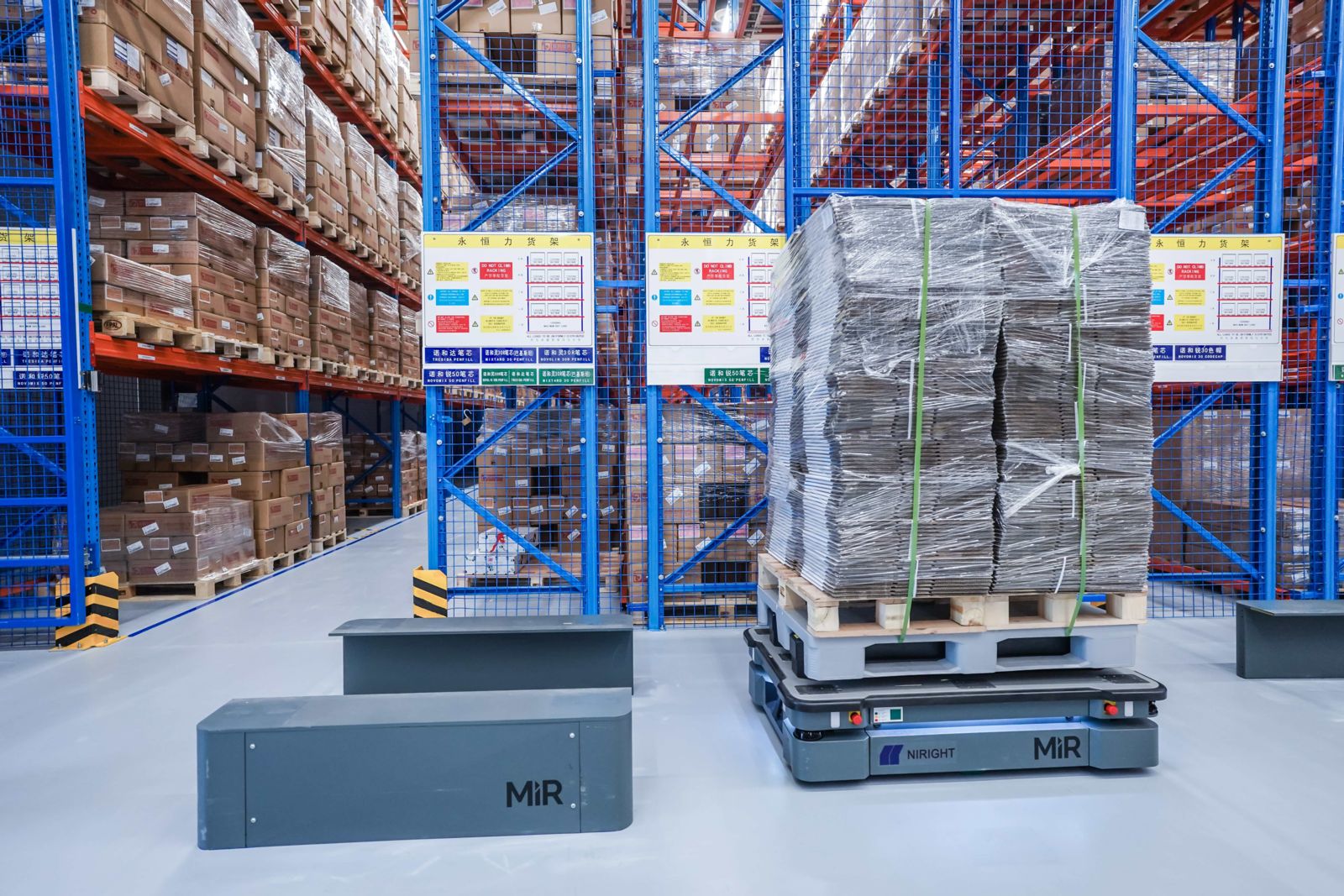 re AI on them without making them bigger or more expensive. It's really going to be a game changer for mobile robots.
Vahey: There are so many exciting things going on at the technology level. We're still in the early, early days of AI and machine learning. That level of connectivity that we're talking about will be even more advanced as 5G rolls out. We're absolutely watching this carefully and are engaged with several universities where there's some great innovation and research going on. There's a lot of very creative innovation in the ecosystem for UR, MiR and AutoGuide.
A lot of the early work in AI and machine learning has been in the vision space. MiR introduced a product last year that brings AI into the MiR ecosystem to help navigation in complex environments. We're going to see more and more clever applications like that.
Sullivan: For AutoGuide, advancements in sensor technology have been critical to the growth of AMRs. We started out with an AMR pallet stacker, which, using sensors, could pick a pallet off the floor. We use sensors to identify the pallet orientation and have developed an algorithm to adjust for any orientation issues. We introduced our MAX-N High Bay pallet stacker a couple of months ago, and in that application, we're actually placing and picking pallets from the racks. For that application, in addition to our existing sensors, we had to add another technology so we could see the pallets and the frame structures of the rack next to it to determine the exact location and orientation so we could pick it. Over time, the technology has evolved, and we have learned to implement it in unique ways to enable more and more complex applications.
Let's talk about applications. Are there any huge growth areas in particular right now?
von Hollen: Somebody asked me recently about what has driven UR's success. For us, it's one word: focus. If you look at the largest application for UR, it's by far pick and place. It's almost industry independent. If we were to look at what some of the industries are doing, for example, whether it's automotive and the complex applications they're doing within the production lines, but also, if we look at the industries that have been driven right now through COVID, that were not necessarily the big customers for us in the past, suddenly we have food and beverage, medical, all coming up very quickly in 2020. They all have specific applications, but for us again, it's really the simple pick and place where we focus.
Nielsen: The really interesting point as a robot manufacturer is that while the automotive and electronics industries are front runners in adopting mobile robots, we don't really look to specific industries. AMRs actually go across all industries because you need to move materials everywhere, whether it's in 3PL logistics or general manufacturing, warehouses, etc. So although we do have an industry segment focus, the interesting point to consider is customer maturity. Where are the customers in their journey to adopt our technology? We are all very focused on delivering products our customers can easily get started with. Our focus is to keep this low entry barrier and then mature our products so they can handle more and more applications. Again, that actually goes across industry segments.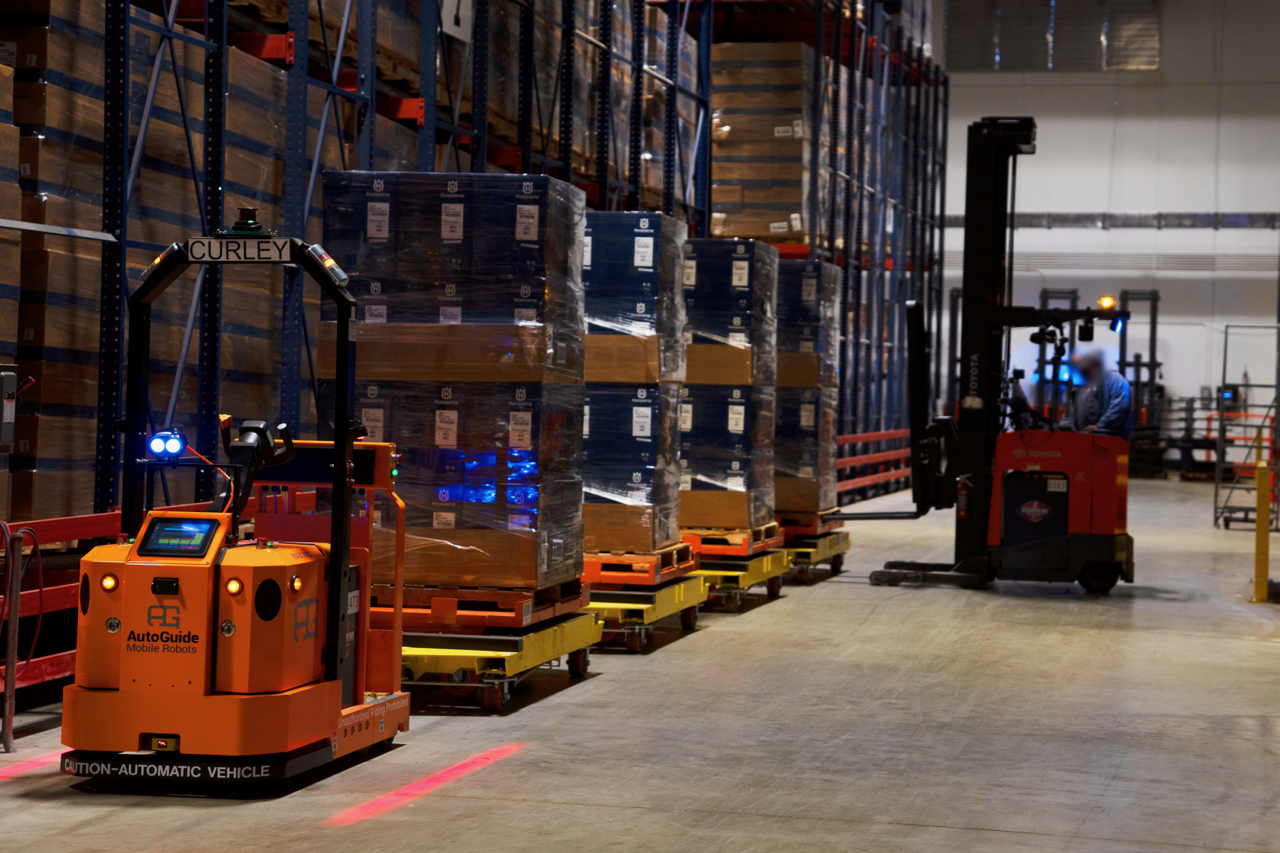 Sullivan: At AutoGuide, we started off in automotive manufacturing, and then expanded to warehousing and distribution/ecommerce. Looking closely at the use cases, we find that, regardless of industry, they are very similar in their needs, specifically for material transport. Ultimately, our focus is on listening to our customers and understanding their needs, now and for the future, and then using our technology to provide a custom solution to meet those needs. That's what really drives our roadmap.
As automation becomes more prolific, how are you helping your customers handle the challenges?
von Hollen: We segment our customer base by size, and what's most interesting is that those customer groups think and act completely differently. The smaller the company, the more emotional the buy. It's almost consumer like, which becomes a challenge because you're trying to get customers to understand the benefits. But if the benefit is defined differently based on the customer size and potentially geography, you need to be very specific in your communication. We've learned that the large customer base really understands how to use our technology. In fact, we've never really marketed our technology to a large customer base, yet they seemed to understand it the day we brought it to market. But the small/medium size customers are where we have to spend more time to increase awareness. To help the owner of a 20-man machine shop understand how a collaborative robot benefits them takes very specific application communication. That's one challenge we see. This market is still at the early stage, and in the small customer segment that we have, 80 percent still don't understand the value proposition that collaborative robots could present to them. That's our challenge still to get that message out there. That's why we need our partners.
Nielsen: Having seen how customers deploy our products around the world, we've learned that the customers who engage their employees in the programming of or interfacing with the robots have much more success than the ones who introduced the robots as just an increase of efficiency. We've seen customers where the workers were initially against the robots. If they manage to engage them and give them tasks around the robots, then it completely changed their outlook and they love them. In fact, many of our customers say they're able to hold on to their best and most skilled employees because they now have more interesting jobs than they had before the robots.
How do you see the public perspective of automation solutions changing over time?
Sullivan: I think, more and more, automation will be embraced as operations see the value of moving their workforce to more valuable tasks and how well collaborative robots—both cobot arms like UR and AMRs—interact with people to do the tasks at hand. Acceptance will come as implementations increase and facilities recognize the operational efficiencies that can be achieved through automation.
Nielsen: I remember from years back that there was a lot of discussion about whether robots were going to take our jobs. And I think we're at a point now where we can safely say with confidence that they actually create jobs, and workers are able to move to more interesting jobs due to robotics. Seeing robots being deployed all over the world, even in low cost/low wage countries, is a testament to that.
Please share your best recommendation to customers on their automation journey:
Sullivan: For any customer on the fence right now, start small. We like to work closely with customers and will usually start with a tugging application, where they can understand the ROI and learn about the benefits AMRs bring. The next step is often pallet stacking and eventually high bay operations, if required. The customer can then expand and work their way through new applications, learning not only to mimic manual operations but to increase efficiency using the unique capabilities of AMRs. Starting small and working with a company like AutoGuide that is focused on solving problems is valuable for both parties.
Nielsen: Starting small is the best insight I could give as well, but to elaborate a bit, I would say we see a lot of ambitious customers and potential customers who have the potential for hundreds of robots across their different sites. The ones we see that will reach a successful proof of concept and go into real operation mode and start getting a return of investment are the ones that start with a realistic small step and learn and expand from there.
von Hollen: Keep it simple. Look at it from an incremental perspective and learn. If you're sitting on the fence, you're missing something. Jump in because this technology is not going away. And your competition is not down the street anymore. They're global so you need to do something. Automation is a kind of an equalizer or a prerequisite for you to equalize your competitive base. It's one of the key drivers. But you don't need to solve world hunger in your first deployment.
Vahey: I'm going to just keep reinforcing what's been said. If you look at companies that have had successful deployments, they solve a tangible problem, start to get some ROI, and then learn and grow. It's super helpful to have a partner that has helped others on that journey. The team here has great experience doing that. And we've got great ecosystem partners that can help customers on that journey.
WATCH THE REPLAY: Sign up here to watch the entire roundtable discussi