Automation Fair in Vancouver, BC on November 6, 2019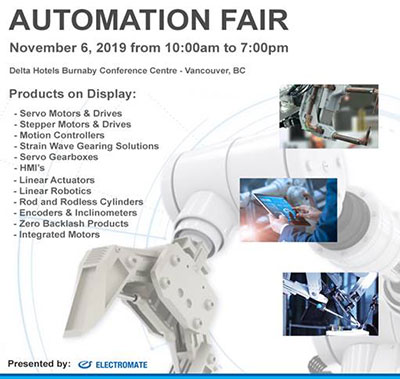 We are excited to invite you to the Electromate Automation Fair on November 6, 2019. The event will take place at the Delta Hotels Burnaby Conference Centre in Burnaby, British Columbia. The Automation Fair is a great opportunity to explore new technologies and see what's changing in the world of Automation and Motion Control. Don't miss this opportunity to meet some of leading manufacturers in the Automation Industry, as well as like-minded industry professionals.
Manufacturers in Attendance Include:
Advanced Motion Controls
Applied Motion Products
Exor Electronic
Galil Motion Control
Gam Gear
Harmonic Drive
Kollmorgen
Macron Dynamics
Maxon Motor
Posital Fraba
Tolomatic
Topics Covered Include:
Industrial Automation
Motion Control
Robotics
Machine Control
Motor Control
Who Benefits from this Automation Fair:
OEM's, Custom Machine Builders and End Users in the following industries: Medical, Pharmaceutical, Life Science, Subsea, Robotics, Industrial Automation, Food & Beverage, Forestry, Packaging, Film & Entertainment, Scientific, and Communication Industries.
The Agenda Includes:
Lunch will be served as well as snacks/drinks throughout the day. A host bar (beer & wine only) will be open from 1:00pm to 7:00pm.
Cost to attend the Automation Fair is FREE, however preregistration is required.