ATI Tool Changers Help Bring Ford's Fuel Efficiency Message to Auto Show Audiences All Over the World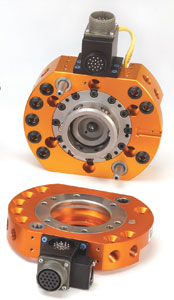 When Ford Motor Company and ABB Robotics looked to create a new live robotic display to communicate the fuel efficiency message of Ford's new EcoBoost Powertrain Technology, they turned to ATI Industrial Automation for their tool changing needs. Debuting at the 2010 NAIAS Detroit Auto Show and on display at the upcoming New York Auto Show, April 2-11, 2010, the display uses ATI QC-110 and QC-210 model Robotic Tool Changers and two ABB robots, named "Eco" and "Boost", which are housed in circular, plexi-glass rimmed display cells. Mounted on the wrists of the robots, ATI Quick-Change Tool Changers enable the robots to automatically pick up different engine samples and components, presenting them to the crowd in a radial path around each cell. Ford also uses ATI Tool Changers in their manufacturing plants to increase flexibility on their stamping, body assembly and powertrain production lines. The Tool Changers allow robots to perform multiple functions and change tooling for different styles of vehicles along the same assembly line.
"Eco" presents a series of engine components, including turbo chargers, fuel pumps, intake and exhaust manifolds and an engine control module. "Boost" presents three different versions of the EcoBoost engine and the new 6F MID 6 speed transmission. The EcoBoost engine will deliver up to a 20% improvement in fuel economy on up to 1.3 million Ford vehicles globally by 2013 with no sacrifice in power. EcoBoost also delivers 15% fewer CO2 emissions, no turbo lag, and a high-injection fuel pump. "The story is really about our leadership in fuel economy, and what a great way to tell that story by brining the technology that builds the powertrain to life on the stand," said John Felice Ford's Marketing General Manager. "It helps substantiate our progress in fuel economy."
ATI Robotic Tool Changers provide the flexibility to automatically change end-effectors or other peripheral tooling with accuracy and ease. These Tool Changers are designed to function reliably for millions of cycles at rated loads while maintaining extremely high repeatability. A variety of models are available to cover a wide range of applications from very small payloads to extremely heavy payload applications requiring significantly large moment capacity.
The QC-110 and QC-210 Tool Changers used in Ford's displays are equipped to handle payloads of up to 330 and 500 pounds respectively. The ATI Tool Changers feature: patented Fail-Safe locking mechanisms to ensure high-moment capacity and strength; modular construction which allows integration into applications requiring high-power, coolant, servo, DeviceNet™, Ethernet, and discrete signal capabilities; a common Lock/Unlock air supply and a Lock/Unlock sensing method.
No-Touch Locking™ technology allows up to 2.5 mm (0.10 in) plate separation when locking. All locking parts are made of Rc58 stainless steel and are designed for superior reliability, repeatability and strength. Integrated robot adapter plates are available for ISO 200 and ISO 250 patterns.
ATI Industrial Automation just celebrated its 20-year anniversary as a world-leading engineering-based developer of robotic peripheral equipment, including Automatic Tool Changers, Multi-axis Force/Torque Sensing Systems, Robotic Deburring Tools, Robotic Collision Sensors and Compliance Devices. ATI's engineering department, the largest of its kind for a robotic tooling company, is focused on developing cost-effective, state-of-the-art products and solutions that improve robotic productivity.
For more information about Tool Changers and other ATI products, contact ATI Industrial Automation, 1031 Goodworth Drive, Apex, NC 27539, phone 919-772-0115, fax 919-772-8259, www.ati-ia.com. For more information about Ford Motor Company and EcoBoost Technology visit, www.media.ford.com.