ATI Industrial Automation's 8th Annual Technology Fair Scheduled for August 21st, 2014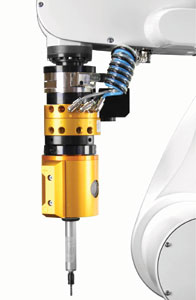 ATI Industrial Automation will host their 8th Annual Technology Fair at the Michigan Sales Office located at 4577 South Lapeer Road, Suite I, Orion Township, MI 48359. On Thursday, August 21st, discussions will detail the many new end-effector products developed by ATI over the past year along with their existing state-of-the-art products. ATI will provide cost-effective solutions to the most challenging applications which will increase robot productivity and surpass your automation needs. ATI Account Managers and Engineers will be available throughout the event to discuss existing and potential applications, end-effector requirements, and answer questions about the complete product line.

Several live demonstrations of ATI's Robotic Tool Changers, Multi-Axis Force/Torque Sensors, Utility Couplers, Robotic Collision Sensors, and Robotic Deburring Tools will run throughout the day starting at 8:00am and ending at 3:00pm. Topics of discussion will include:
The Impact of Robots in Manufacturing (8:30am - 9:00am) presented by Bob Doyle, Director of Communications for A3 the Association for Advancing Automation.
New ATI Tool Changer Products (9:00am - 9:55am) presented by ATI, Stanley, and Apex Tool Group.
ATI Products in New and Challenging Environments (10:00am - 10:55am) presented by ATI, Valiant International, and KUKA Systems.
Force Control Applications (11:00am - 11:55am) presented by ATI, Battenberg, and KUKA Systems.
Bus Networks for Tool Changers (1:00am - 1:55am) presented by ATI.
You may also attend several 15-minute breakout sessions during lunch and in the afternoon. These sessions cover Robotic Deburring and Finishing Methods, Configuring Tool Changer Tool Stands, Tool Changer Maintenance, Cycle Time Optimization with Bus Networks, and RoHS Compliance - Are You Ready?

Please register for the event online or contact ATI. You may also contact ATI if you would like a specific topic covered or if you would like an informal one-on-one meeting with one of their Engineering team members. Food and refreshments will be available all day and lunch will be provided.

AMT- Tech Fair 2014
Only a few blocks away at 219 Kay Industrial Drive, the AMT Tech Fair will feature some of the industry's top speakers, trainers, and vendors along with demonstrations and breakout sessions. AMT is North America's largest automation engineering company for supporting robot companies, and has over 25 years of experience working with systems integrators, line builders, and users of robotic automation worldwide. Transportation will be provided between locations during the event.

ATI is a world-leading, engineering-based developer of robotic peripheral equipment, including Automatic Tool Changers, Multi-Axis Force/Torque Sensing Systems, Utility Couplers, Robotic Deburring Tools, Robotic Collision Sensors, and Compliance Devices.