ATI Industrial Automation's 2017 Technology Fair set for August 10th in Orion Township, MI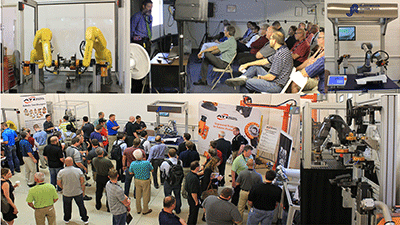 ATI Industrial Automation will hold its Annual Technology Fair on August 10, 2017 at its Orion Township, Michigan facility. The one-day educational event will focus on "Applications Advancing Automation," providing attendees the opportunity to learn more about ATI's products and hear from the industry-leading experts that use them every day. The event will feature educational seminars hosted by ATI's distinguished customers, as well as live robotic demonstrations of ATI's Tool Changers, Multi-Axis Force/Torque Sensors, Robotic Collision Sensors and Robotic Deburring Tools.
Attendees will have the opportunity to discuss their specific automation challenges and possible solutions with ATI account managers, engineers and personnel from automation partner companies who will also be on hand.
ATI's passion is helping to solve unique automation challenges and elevate processes. The Technology Fair is designed to benefit both those considering an initial foray into robotic automation, as well as those looking to upgrade or enhance their existing robotic lines.
ATI's Michigan facility is located at 4577 South Lapeer Road, Suite I, Orion Township 48359.
For additional information and registration visit our website or call 248-276-0502. Lunch will be served; special guests and a detailed schedule will be announced soon. The event will run from 8:00 am to 4:00 pm.
(#ATITechFair17)
AMT Xpo 2017 to be held the same day, right down the street
AMT Xpo, which is located just down the street from ATI at 219 Kay Industrial Drive, will also be held August 10. Attendees will learn how AMT helps customers drive automation forward by embracing emerging technologies. Learn about IoT, Collaborative Robotics, Advanced Engineering Solutions, and AMT's commitment to continuous learning with their onsite Automation Academy Lab and their internal Technical Council. Shuttle service will be provided between the events.
For More information and registration please visit us online.
About ATI Automation
ATI Industrial Automation is the world's leading engineering-based developer of robotic accessories and robot arm tooling including Robotic Tool Changers, Multi-Axis Force/Torque Sensing Systems, Utility Couplers, Manual Tool Changers, Robotic Deburring Tools, Robotic Collision Sensors and Compliance Devices. Their robotic end-effector products are found in thousands of applications around the world. Manufactured entirely in the USA, ATI products enable customers to achieve a high level of flexibility in robotic automation. Their flagship product is the Robotic Tool Changer, a robotic wrist coupling that locks and unlocks automatically, allowing a single robot to perform many different tasks. ATI products can be found at some of the world's most renowned corporations and organizations including NASA, Ford, Honda and Johns Hopkins University.