ATI Industrial Automation to introduce new QC-1210 Robotic Tool Changer at IMTS 2008
Apex, NC – On September 8-13 at the 2008 International Manufacturing Technology show in Chicago, IL, ATI Industrial Automation will introduce the new QC-1210 Heavy Automation Robotic Tool Changer. The QC-1210 was developed for robots that can handle up to 1200 kg loads and features three of ATI's patented Fail-Safe™ locking mechanisms. The new Tool Changer can mount up to six utility modules using a common mounting pattern. Also on display will be, ATI's new Net F/T Force/Torque Sensor System. The Net F/T System measures six components of force and torque (Fx, Fy, Fz, Tx, Ty, Tz) and provides an EtherNet/IP™ and CAN bus communication interface, and is compatible with standard Ethernet.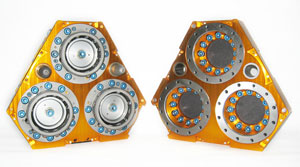 At Booth # B-6416, ATI will also have all of their newest end-effector products on display, including Robotic Tool Changers, Multi-axis Force/Torque Sensors, Robotic Deburring and Finishing Tools, Robotic Collision Sensors, Rotary Joints, and Compliance Devices.



Many other exhibitors at IMTS will be featuring ATI products. Visit these companies to see ATI products in action:

Acme Manufacturing Co. - Booth # B-7241
Fanuc Robotics - Booth # A-8418
Hirschman Automation - Booth # D-4100
Makino - Booth # D-4101, A-8301
Mazak - Booth # A-8101
Motoman - Booth # B-6400
Okuma/Fanuc - Booth # A-8200, A-8745
Weldon Solutions - Booth # B-7410

Contact ATI Industrial Automation at 919-772-0115 or info@ati-ia.com if you would like a free pass to the show and be sure to stop by ATI's booth # B-6416. Visit ATI's web site at www.ati-ia.com.