ATI Industrial Automation to Exhibit New Products and Solutions at Automate 2015, Chicago, March 23-26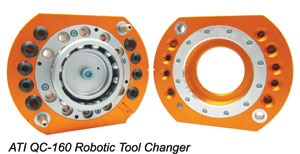 ATI Industrial Automation, a world-leading, engineering-based developer of robotic peripheral equipment, including: Automatic Tool Changers, Multi-Axis Force/Torque Sensing Systems, Utility Couplers, Robotic Deburring Tools, Robotic Collision Sensors, and Compliance Devices, will exhibit new products and solutions at Automate 2015, Booth #640, McCormick Place North, Chicago, Illinois, March 23–26. ATI's booth will feature live demonstrations of their cutting-edge products and all of their latest advances in robotic end-effectors and automation tooling will be on display. ATI's products are integrated into many industries, including: aerospace, assembly, automotive, fabricating, finishing, material handling, packaging, welding, medical, and more.
Some of the newest products highlighting the ATI booth will be: Lateral and Pivoting Compliance Devices that allow compliance in multiple directions. Two new series of Compensators allow pieces to be gripped or routed reliably even if the workpiece is severely misaligned. The LCC and PCC Compliance Devices provide high endurance and high repeatability and have superior guidance allowing for high moment loads in a compact work envelope. New Tool Changer Models, including QC-160 for most 200 kg robots, QC-18 electrically-actuated and QC-001 Micro Tool Changer for high-speed "spider" or delta robots have been added to ATI's line of Robotic Tool Changers that provide the flexibility to automatically exchange end-effectors or other peripheral tooling. The Tool Changers are designed to function reliably for millions of cycles at rated load while maintaining extremely high repeatability. New Series of Manual Utility Couplers, which can be manually coupled/uncoupled quickly. The Utility Couplers are designed for applications where there is a need to quickly connect utilities such as air, fluid, power, and electrical signals in docking and fixturing operations. Any of ATI's Standard Series Tool Changer Utility Modules can attach to the modular, multi-coupling design and will improve cycle-time and flexibility in any production cell.
Catherine Morris, ATI's Director of Automotive Sales/Group Leader states, "Everyone today is looking for a competitive edge — Automate 2015 is the show where you can find that edge and find answers to all kinds of automation challenges. You will see automation solutions that incorporate robots, vision, motion control, sensors, assembly systems, etc. right on the show floor. You may also attend conference sessions that will provide practical training taught by experienced industry professionals who know your challenges."
ATI's robot end-effector products are found in thousands of successful applications around the world. ATI's flagship product is the Robotic Tool Changer, a robotic wrist coupler that locks and unlocks automatically, allowing a single robot to perform many different tasks. ATI remains focused on developing cost-effective, state-of-the-art products and solutions that improve robotic productivity. Customers choose ATI products for their unmatched quality, reliability, precision, and strength.
For additional information about ATI products or solutions visit Booth #640 at the show or contact ATI Industrial Automation.

Automate Madness Networking Party Tuesday, March 24 at 5:30pm
Join ATI Industrial Automation for a basketball-themed evening of networking with exhibitors, speakers, and attendees over drinks, food, and games. Meet basketball legend Bill Walton and receive an autographed full-sized basketball. Bill Walton will also be signing autographs in our Booth #640 Tuesday afternoon.