ATI Industrial Automation's Fifth Annual Open House and Technology Training Fair Set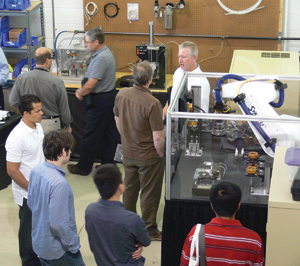 ATI Industrial Automation, will host their 5th Annual Open House and Technology Training Fair at the Detroit, Michigan Sales Office located at 4577 South Lapeer Road, Suite I, Orion Township, MI 48359. On Thursday, August 18th, discussions will detail the many new end-effector products developed by ATI over the past year along with their existing state-of-the-art products. ATI will provide cost-effective solutions to your most challenging applications that will increase robot productivity and surpass your automation needs. ATI Account Managers and Engineers will be available throughout the event to discuss existing and potential applications, end-effector requirements, and answer questions about the complete product line.

Several live demonstrations of ATI's Robotic Tool Changers, Robotic Collision Sensors, Robotic Deburring Tools, and Force/Torque Sensors will run throughout the day. Tentative topics include:
New Product Developments: A look at the latest advances in robotic end-effectors and their applications that ATI has developed over the past year and a brief look at products currently under development.
Solutions – How Customers Are Using ATI Products: Specific application examples of how customers have benefited from ATI products.
Basic Tool Changer Selection and Web Site Navigation: Basic Robotic Tool Changer operation and selection; Utility Module selection and finding information on ATI's web site.
Bus Networks for Tool Changers: Trends in Automotive Tool Changer applications with an overview of current bus network types, their advantages and disadvantages, and ATI Tool Changer products that support these network standards.
A schedule will be announced on ATI's web site, www.ati-ia.com. Food and refreshments will be available all day. To register for the Open House and Technology Training Fair, contact Catherine Morris at 919-772-0115 ext. 135 or email your Account Manager. For additional information on the entire ATI product line, contact ATI Industrial Automation. ATI is a world-leading engineering-based developer of robotic peripheral equipment, including Automatic Tool Changers, Multi-Axis Force/Torque Sensing Systems, Utility Couplers, Robotic Deburring Tools, Robotic Collision Sensors and Compliance Devices