ATI Industrial Automation has introduced the AOV-10 Axially-Compliant Orbital Sander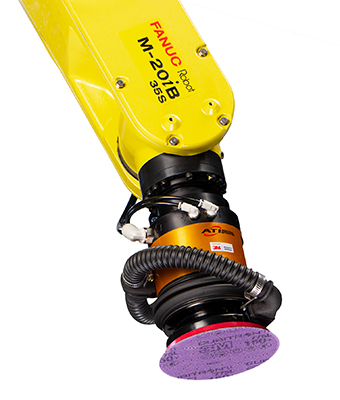 Optimized with 3M abrasives, it is an ideal solution for robotic surface treatment
APEX, N.C. – ATI Industrial Automation has introduced the AOV-10 Axially-Compliant Orbital Sander, specifically designed for robotic surface preparation and finishing. With built-in compliance, the AOV-10 is well-suited for many different robotic applications—even those that require a light touch.
A pneumatically-actuated compliance mechanism allows for dynamic control of contact forces and ensures an ideal result every time. The compliance force is adjustable to accommodate a wide variety of applications. Double-acting motion offsets the weight of the tool to produce the desired finish no matter how it is oriented. Users can mount the AOV-10 directly to their robot or to a fixture, in any orientation, including upside-down. The design is compact and lightweight which suits a range of robot sizes and types, from cobots to industrial models.
ATI's robotic sander is optimized with 3M abrasives and includes a media kit of sanding discs and backup pads, allowing many users to easily implement robotic sanding processes. The Compliant Orbital Sander is the perfect platform for 3M's wide range of abrasive products; together they enable users to successfully automate a variety of manual surface preparation and finishing tasks on many types of materials. Robotic sanding and surface treatment with ATI's AOV-10 and 3M media ensures consistent processing using familiar media while keeping workers safe and reducing some uncertainties associated with a new automation project.
In manual operations, a skilled person's ability to feel and visually inspect subtle changes in surface conditions allows them to instinctively adjust forces to compensate for variations and produce a uniform process on the workpiece. Manual material removal jobs, often labeled as dull, dirty, and dangerous, need responsiveness to ensure consistent results. ATI's Axially-Compliant Orbital Sander provides a direct replacement for manual surface preparation and finishing techniques; high quality results without the safety hazards or compromised labor.
Automation with a robot and an AOV-10 end-effector not only keeps employees away from undesirable conditions, but also overcomes process variation due to part misalignment, part geometry inconsistency, or robot path deviations. This leads to two main benefits: the programming process becomes quicker and easier, and the overall quality of the process increases which ultimately drives costs down.
The affordable and flexible Compliant Robotic Sander from ATI streamlines surface preparation processes to increase efficiency, lower costs, and eliminate safety hazards. The ability to integrate an assortment of media options, configure the tool to fit their unique project, and vary the air pressure and contact forces on the workpiece make the AOV-10 a uniquely versatile tool for automation.
ATI continues to expand its family of Compliant Material Removal products with a diverse collection of application-specific tools. Solutions for robotic grinding, passive compliance, and automatic changeover of blades and media will be released later this year.
About ATI Industrial Automation
ATI Industrial Automation is the world's leading engineering-based developer of robotic accessories and robot arm tooling including Robotic Tool Changers, Multi-Axis Force/Torque Sensing Systems, Utility Couplers, Manual Tool Changers, Robotic Deburring Tools, Robotic Collision Sensors and Compliance Devices. Their robotic end-effector products are found in thousands of applications around the world. Manufactured entirely in the USA, ATI products enable customers to achieve a high level of flexibility in robotic automation. Their flagship product is the Robotic Tool Changer, a robotic wrist coupling that locks and unlocks automatically, allowing a single robot to perform many different tasks. ATI products can be found at some of the world's most renowned corporations and organizations including NASA, Ford, Honda and Johns Hopkins University.