aTCA-3710 40G AdvancedTCA® Switch Blade for Bandwidth-demanding Applications
rong>Complete 40G ATCA Platform expedites time-to-market of telecom applications in network monitoring and security, access point controllers, video streaming and DPI

San Jose, CA - ADLINK Technology, Inc., a global provider of embedded building blocks and Application Ready Intelligent Platforms (ARIPs), today announced the availability of its new 40G AdvancedTCA® (ATCA) switch blade, the aTCA-3710, featuring a Broadcom BCM56846 10/40 GbE Fabric Interface Switch, Broadcom BCM56334 24-port GbE Base Interface Switch and Freescale QorIQ P2041 quad-core Local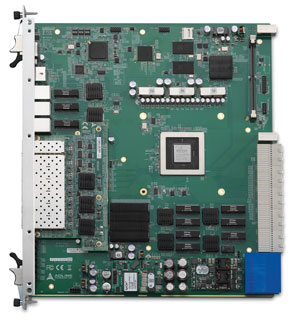 Management Processor. The aTCA-3710 provides fourteen 10 GbE SFP+ uplink ports and supports a total of 640 Gb/s bandwidth for use in 14-slot 40G ATCA shelves. Targeting new generation 4G/LTE telecom applications in network monitoring and security, access point controllers, video streaming and deep package inspection (DPI), the aTCA-3710 is ideal for service providers requiring fast, high-quantity data throughput processing.

With the prevalence of mobile devices and rapidly increasing number of associated bandwidth-demanding applications, telecom carriers are upgrading their equipment to next generation standards to provide ultra-wide bandwidth services. To meet the needs of this industry trend, ADLINK has been rolling out a series of telecom-grade products, including processor blades, switch blades and shelves, with 40 GbE Fabric Interface capability for high-bandwidth applications.

The aTCA-3710 40GbE ATCA Fabric Interface switch blade is compliant to PICMG 3.0 R3.0 and PICMG 3.1 R2.0 standards and positioned as a high-performance server switch that, along with CPU/NPU blades and ADLINK Software for Networks (ADSN), can be used to constitute a 40G ARIP for next generation applications. With rich front panel I/O and a hot-swappable design, the aTCA-3710 guarantees high availability, scalability and easy maintenance.

ADSN is comprehensive, optimized middleware that allows operators to easily configure, manage and monitor switch status. ADLINK's 40G ARIP utilizes the ADSN middleware and fully validated hardware building blocks like the aTCA-3710 to expedite system deployment at a lower cost, allowing customers to enjoy shortened time-to-market and increase their competitive advantage.

ADLINK has nearly 10 years experience in the development and implementation of ATCA technology and is a high volume supplier of ATCA products to tier1 telecom equipment manufacturers (TEMs) worldwide. Learn more about ADLINK's AdvancedTCA solutions at http://www.adlinktech.com/aTCA/

About ADLINK
ADLINK Technology provides a wide range of embedded computing products and services to the test & measurement, automation & process control, gaming, communications, medical, network security, and transportation industries. ADLINK products include PCI Express-based data acquisition and I/O; vision and motion control; and AdvancedTCA, CompactPCI, and computer-on-modules (COMs) for industrial computing. With the acquisition of Ampro Computers, Inc. and LiPPERT Embedded Computers GmbH, ADLINK also provides a wide range of rugged by design Extreme Rugged™ and Rugged product lines including single board computers, COMs and systems.

ADLINK strives to minimize the total cost of ownership (TCO) of its customers by providing customization and system integration services, maintaining low manufacturing costs, and extending the lifecycle of its products. ADLINK is a global company with headquarters and manufacturing in Taiwan; R&D and integration in Taiwan, China, the US, and Germany; and an extensive network of worldwide sales and support offices.
ADLINK is ISO-9001, ISO-14001, ISO-13485 and TL9000 certified, is a Premier Member of the Intel® Intelligent Systems Alliance, an Executive Member of PICMG, a Sponsor Member of the PXI Systems Alliance, an Executive Member of the PC/104 Consortium, an initial member of SGeT (Standardization Group for Embedded Technologies), a Strategic Member of the AXIe Consortium, and a member of VMEbus International Trade Association (VITA). ADLINK is a publicly traded company listed on the TAIEX Taiwan Stock Exchange (stock code: 6166).

All registered trademarks are the property of their respective owners.

Embedded Vision
This content is part of the Embedded Vision curated collection. To learn more about Embedded Vision,
click here
.