ASSISTA Collaborative Robot from Mitsubishi Electric Goes to Market in North and South America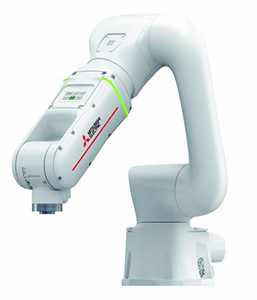 The ASSISTA Collaborative Robot is built to be an industrial-grade collaborative robot for a cooperative environment.

Mitsubishi Electric Automation, Inc. has announced the launch of its ASSISTA collaborative robot in the Americas. As a collaborative robot, or 'cobot', ASSISTA is designed to share its workplace with humans in a safe and efficient manner. This makes it a useful solution across various industries with its internal wiring, rigid, industrial-grade design, and newly developed components.
ASSISTA is designed for original equipment manufacturers and end-users with a focus on easy implementation, as its high-quality internal wiring and piping reduces the risk of cables being caught or snagged, increasing uptime and decreasing the risk of needing repair. It also includes an H1 food grade grease option for implementation in food processing facilities. For those customers with a focus on throughput and production, ASSISTA features accuracy that has been measured to be +/- 0.03 millimeters per cycle. Safety considerations include the elimination of hand and pinch points to protect hands and fingers of operators, and the robot reacts to its environment by going into a collaborative mode when operators approach it. Finally, ASSISTA can be programmed without a teach pendant to be more easily operated by those without prior industrial robot experience. While ASSISTA is still compatible with a teach pendant, it can also be operated by buttons on the robot body or by "hand guiding" it to various positions.
"We are excited to bring ASSISTA to North and South America," said Scott Strache, product manager at Mitsubishi Electric Automation, Inc. "We saw an opportunity to introduce a cobot that features truly industrial performance to the marketplace, all while backed by a three year on-site warranty."
Learn more about ASSISTA at this link.
About Mitsubishi Electric Automation, Inc.
Headquartered in Vernon Hills, Ill., Mitsubishi Electric Automation, Inc., offers a wide range of factory automation products, solutions, training and support services for the industrial and commercial sectors. A U.S. affiliate company of Mitsubishi Electric Corporation, Mitsubishi Electric Automation represents more than 75 years' experience in the automation industry. A broad product portfolio includes programmable automation controllers (PAC), programmable logic controllers (PLC), human machine interfaces (HMI), variable frequency drives (VFD), servo amplifiers and motors, control software, computerized numerical controllers (CNC), motion controllers, robots and low-voltage power distribution products. The company takes its solutions on the road with the 53-foot long Solutions in Motion mobile showroom that appears at tradeshows, training seminars and other events across North America. Additional information about Mitsubishi Electric Automation is available at us.MitsubishiElectric.com/fa/en. In addition to factory automation, Mitsubishi Electric US group companies' principal businesses include semiconductor devices, automotive electrical components, elevators and escalators, heating and cooling products, electric utility products, and large-scale video displays for stadiums and arenas. Mitsubishi Electric US group companies have 38 locations throughout North America with approximately 4,000 employees.