ASDA-A2 Series Advanced Servo Drive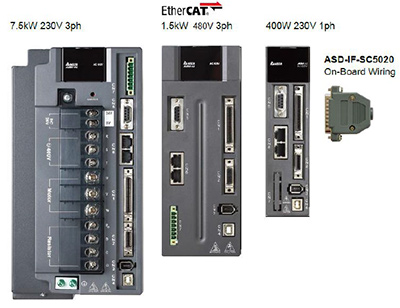 To meet the demanding requirements of stand-alone or distributed motion control applications in industrial automation and satisfy the needs of high-precision positioning control requested by machine designers and system integrators, Delta introduces the high performance motion control ASDA-A2 series servo motors and servo drives. Wide range from 100W to 7.5kW, the A2 series is the intelligent networked servo drive model capable of solving common indexing, camming, and line shafting type applications. Powerful & unique built-in motion macros offer a simplified architecture which removes the need for an external PLC. These functions can be activated and sequenced with free wizard based configuration software that utilizes a stand-alone programming environment. Network accessibility empowers the distributed motion functions on the industry's leading industrial communication protocols such as recently certified EtherCAT, RS-485 modbus, CANopen, and EtherNet/IP (via gateway). Advanced Servo Drive features include: SIL2/CAT3/PLd rated STO Safe-Torque-Off (E series), eCAM, 300% overload performance, Auto-tunning with analysis tools, Auto Notch Filtering, and AutoID motor commissioning to name a few.
The ASDA-A2 series drive is the ideal, high performance and cost effective solution for all motion applications such as CNC cutting, Packaging, Bottling and Filling, Labeling, Pipe Bending, Printing, and many more. Find out now how the ASDA-A2 is the right solution for your Servo Motion needs.
For more information go to Delta's website.
ASDA-A2 Series Advanced Servo Drive
Intelligent. Cost Effective. Fast.
Power range: 100 W - 15 kW
240 & 480 VAC models
Auto-ID Motor with INC or ABS encoder
On Board Digital Keypad and I/O accessible by Network
Conformal coated PCBs for enhanced environment protection
Temperature monitored heatsink for added reliability
High overload capacity – 300% for 2.8 to 5.6 sec
Auto-tuning with system analysis tools
Dual full-closed loop embedded
Built-in motion control functions: E-Cam, Capture / Compare, PR mode ideal for distributed & standalone machine automation control
Company Contact
Matt Wiese, Servo Product Manager
Tel: 919-767-3915