ASD Series, Performance-Optimized Industrial Grade SATA 6 Gb/s Solid State Drives
rong>Performance-Optimized Industrial Grade SATA 6 Gb/s Solid State Drives

The ADLINK ASD Series of SSDs provides optimized RAID support for higher data transfer rates and TRIM commands for reduced performance degradation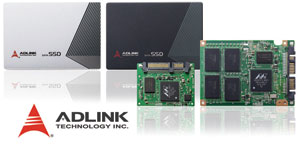 San Jose, CA – ADLINK Technology, Inc, a leading global supplier of industrial and embedded building blocks, announces the ADLINK ASD Series of industrial grade solid state drives (SSDs) featuring a SATA 6 Gb/s (SATA III) interface with the fastest read/write speeds available on the industrial market. The ADLINK ASD Series is available in 2.5", 1.8" and JEDEC MO-297 (Half-Slim) form factors. Product highlights include low latency with less than 1 ms access time, power consumption as low as 2 watts, high reliability and high storage capacity. SSDs use NAND flash for data storage and have no moving parts, providing faster access times and higher reliability than conventional hard disk drives and eliminating the risk of mechanical failure, making them ideal for use in harsh environments. The ADLINK ASD Series of SSDs is designed for use in rugged embedded applications, supporting a wide operating temperature range from -40°C to 85°C and with shock and vibration tolerance to 1,500 G, 0.5 ms duration and 3.08 Grms, 7-800 Hz, respectively. In addition, the ADLINK ASD Series supports firmware optimized RAID function and TRIM commands to maximize overall data transfer rates and minimize performance degradation over the life of the product.

Until the arrival of SSDs, storage device performance lagged far behind the advances in drive capacities and was often a bottleneck in system performance. Compared to hard disk drives, SSDs have lower latency and support more IOPS (Input/Output Operations Per Second), resulting in reduced access times. The ADLINK ASD Series offers significant increases in read/write speeds over HDDs, allowing for faster system boot, application load and data access. RAID arrays of two or more ADLINK SSDs are capable of optimizing utilization of available data transfer bandwidth and maximizing system performance (900 MB/sec sequential read, 600 MB/sec sequential write, two ADLINK SLC 128 GB SSDs in a RAID 0 array, ADLINK M-342 2nd Generation Intel® Core™ i7 ATX motherboard).

ADLINK ASD SSDs are ideal for applications in defense, transportation, medical, aviation, industrial automation and other rugged applications with extended temperature range requirements. To meet extreme performance and data security demands, ASD Series SSDs provide improved speed and reliability in multiple drive RAID configurations.

Performance degradation with use over time is one of the inherent drawbacks of SSDs. The ADLINK ASD Series supports TRIM commands which prevent the SSD from being cluttered with invalid pages that slow down write speeds. By providing stable high-speed performance over the life of the product, the ADLINK ASD Series allows customers to reliably operate their systems for years with minimal maintenance (e.g. servers or other high availability applications).

With the SATA 6 Gb/s high speed interface and high reliability, the ADLINK ASD Series is a SATA storage solution with an optimal price/performance ratio in a ruggedized format. The ADLINK ASD Series is a cost-effective solution that provides unparalleled performance and comprehensive support for a wide variety of system configurations and applications.

For more information on the ADLINK ASD Series of industrial grade SSDs, please visit: http://www.adlinktech.com/SSD/. ADLINK will also exhibit the ASD Solid State Drive lineups in the upcoming RTECC in Denver CO (8/9), Irvine CA (8/23), and San Diego CA (8/25).

About ADLINK
ADLINK Technology provides a wide range of embedded computing products and services to the test & measurement, automation & process control, gaming, communications, medical, network security, and transportation industries. ADLINK products include PCI Express®-based data acquisition and I/O; vision and motion control; and AdvancedTCA®, CompactPCI®, and Computer-on-Modules (COMs) for industrial computing. With the acquisition of Ampro Computers, Inc., ADLINK also provides a wide range of Extreme Rugged and Rugged Single Board Computers, Computer-on-Modules and Systems under the brand name Ampro by ADLINK. ADLINK strives to minimize the total cost of ownership (TCO) of its customers by providing customization and system integration services, maintaining low manufacturing costs, and extending the lifecycle of its products. ADLINK is a global company with headquarters and manufacturing in Taiwan; R&D and integration in Taiwan, China, and the US; and an extensive network of worldwide sales and support offices.

ADLINK is ISO-9001, ISO-14001, ISO-13485, and TL9000 certified, is an Associate Member of the Intel® Embedded Alliance, an Executive Member of PICMG, a Sponsor Member of the PXI Systems Alliance, and a Member of the AXIe Consortium. ADLINK is a publicly traded company listed on the TAIEX Taiwan Stock Exchange (stock code: 6166).