AS300 Series Compact Modular Mid-range PLC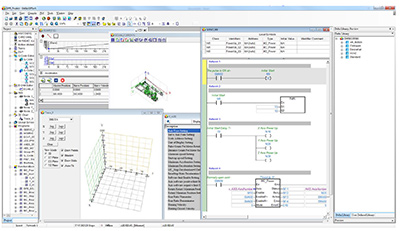 The AS300 Series Compact Modular Mid-range PLC is a high performance multi-purpose controller designed for all kinds of automated equipment. It features Delta's self-developed 32-bit SoC CPUs for enhanced execution speed (40k steps / ms) and supports up to 32 extension modules or up to 1,024 inputs and outputs. The AS300 Series PLC provides accurate positioning control for up 6 axes via pulse control at 200 kHz or via differential control at 4 MHz. It can also control up to 8 of Delta's A2 servos using CANopen for additional accurate position control. It is widely used in diverse automated equipment such as electronics manufacturing, labeling, food packaging, and textile machines.
The AS300 Series Controller is equipped with CANopen and EtherNet/IP scanner network communication for high-speed data transmission. The professional yet simple editing software ISPSoft delivers quick hardware and network configuration with built-in function blocks for different industries. It also provides multi-layer password protection for enhanced system security.
The AS Series adopts a rackless design and patented DIN rail clips for fast vertical module installation. The simple shape and dark gray exterior of the AS series help resist stains and dirt in harsh industrial environments.
Download ISPSoft at Delta's AS300 webpage to learn about the AS300.
AS300 Series Compact Modular Mid-range PLC
Compact. Fast. Secure.
Robust rack-less design with patented "Slide-Lock" for quick connection and easy expansion
High performance – 32bit SoC (System on Chip) CPU
25ns LD instruction time, 0.15 μs MOV instruction time
Ultrafast processing: 40k steps in 1 ms
6 axis motion pulse control @ 200 kHz
Program capacity: 128k steps
Six security protection methods to keep your software safe
Program in an integrated IEC 61131-3 environment with ladder, structured text, SFC, CFC
Micro SD card with up to 32GB additional storage
Software backwards compatible with the DVP Series
Company Contact
Remy Echavarria, PLC/HMI Product Manager
Tel: 919-767-3924