ArcWorld 200 and ArcWorld 500 Workcells With Dual Workstation Design
Dayton, OH — The new ArcWorld® 200 and ArcWorld® 500 welding solutions are designed to be versatile workhorses for small- to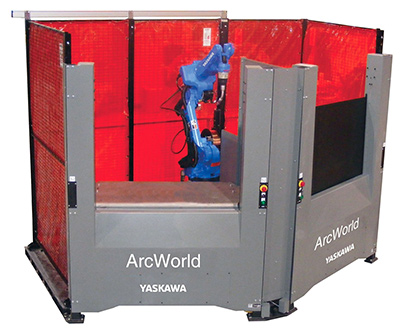 medium-sized parts or medium-volume production runs. These customizable models feature a dual-station design allowing for high robot utilization; the operator can load one workstation while the robot is servicing the other. Floorspace requirements are minimal, as they can occupy a typical single-station space.

The AW200 and AW500 cell designs allow tooling to be quickly changed. Each workstation can be tooled for different parts or can be used for sequential operations. Both workstations feature a simple, rugged, electrically driven barrier door with a two-second cycle time. The Functional Safety Unit (FSU) provides an additional layer of safeguarding between the two stations without switches or a safety PLC, reducing cost and complexity.
The AW200 and AW500 can be configured with either a high-speed six-axis MA1440 or a seven-axis VA1400 II arc welding robot, which services both stations. A variety of weld packages are available.
The ArcWorld 200 is designed for workstations with stationary tooling or a tack table. Risers are provided to allow end users to place their own tooling in the workstation, and each station accommodates a work area of 600 mm x 1,300 mm.
ArcWorld 500 workstations include an MHT185 positioner equipped with a MotoMount™ tool mounting system, which eliminates the need for precise alignment of the headstock and tailstock. Coordinated motion is standard between the robot and each positioner. Dowel pins can be used in MotoMount to allow rapid and accurate changeover between multiple parts/fixtures. Each station can accommodate a maximum part size of 1,000 X 800 mm.
Both models feature a total safety environment that complies with ANSI/RIA R15.06-2012 and relevant ISO and CSA safety standards. All ArcWorld solutions arrive pre-assembled for quick setup and deployment.
About Yaskawa Motoman
Founded in 1989, the Motoman Robotics Division of Yaskawa America, Inc. is a leading robotics company in the Americas. With over 360,000 Motoman® robots installed globally, Yaskawa provides automation products and solutions for virtually every industry and robotic application; including arc welding, assembly, coating, dispensing, material handling, material cutting, material removal, packaging, palletizing and spot welding.