Applied Motion Products Introduces Add On Instructions for Allen Bradley Software for Faster PLC Integration of its Motors & Drives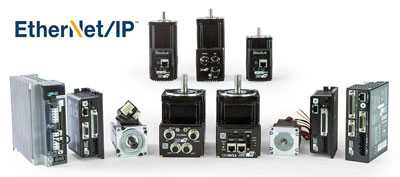 Watsonville, CA - Applied Motion Products announces the release of new Add On Instructions (AOI) for Rockwell Automation's RSLogix 5000™ software to better control industrial devices and motion control components over EtherNet/IP networks. The new Add On Instructions increase the capabilities of Applied Motion Products' drives and integrated motors within the RSLogix 5000 environment, supporting a faster and easier integration into PLC projects.
Most of the new AOIs use implicit messaging, known as I/O messaging or polling, that simplify sending commands to the drive while making data received from the drive more PLC-friendly. The AOIs also reduce communications overhead to lighten the work required to integrate Applied Motion Products motors and drives into new and existing PLC programs.
Applied Motion offers twenty new AOIs that feature a range of commands and functionality including absolute, relative, jog, and homing moves; motor enable/disable; reading the drive and alarm status; and much more. The company specifically designed these free AOIs for motor and drive users to take advantage of its latest EtherNet/IP firmware.
Applied Motion Products offers a range of integrated motors and drives compatible with popular Rockwell PLCs such as ControlLogix® and CompactLogix™. Many of these products also feature dual-port Ethernet connections for easy integration into a variety of network topologies.
StepSERVO™ Integrated Motors: SSM, TSM and TXM series
Stepper Drives: ST5, ST10 and STAC5 series
Integrated Stepper Motors: STM and SWM series
SV200 Servo Drives
For a full list of integrated motors and drives that incorporate EtherNet/IP network communications, the widely used industrial protocol for manufacturing automation applications, refer to the website at https://www.applied-motion.com/products/series/ethernetip-products. Or contact Applied Motion Products for technical support or a copy of the AOIs by completing the online contact form or calling 1-800-525-1609.
About Applied Motion Products
Founded in 1978, Applied Motion Products specializes in high-precision, cost-effective motion control products including stepper and servo motors, drives, controllers, gearheads, and power supplies. The company serves a diverse industrial and OEM customer base with both standard and customized products. With in-depth motor and control expertise, Applied Motion Products works with customers from initial concept and design through finished product and production to provide the best motion control solutions to a range of markets. Find out more at https://www.applied-motion.com/ or contact the company at 1-800-525-1609.