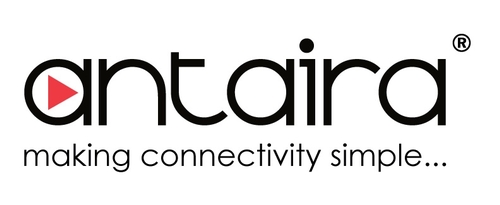 Content Filed Under:
Industry:
N/A
Application:
N/A
Antaira DC-DC Power Converters Support Critical Voltage Needs for Automation Devices
News
05/16/2023
Antaira DC-DC Power Converters Support Critical Voltage Needs for Automation Devices
BREA, CA, May 16, 2023 -- Antaira Technologies, a world leader in industrial networking devices and software, today launched two DIN Rail mounted DC-DC converters able to boost the 9-36VDC input power typical of control cabinets to a maximum adjustable output of 53VDC and either up to 480 watts (DTD-480-0953-T) or 360 watts (DTD-360-0953-T).
"In automation networks, 24 VDC in the panel is sufficient as input power for Ethernet switches and other devices with PoE that can internally boost low power up to the necessary 48 to 52 VDC," said Henry Martel, Field Application Engineer, Antaira Technologies. "However, there are network devices requiring higher voltage that cannot increase low power on their own, such as larger non-PoE Ethernet switches with high port counts. Our new DTD product line acts as an external booster to those devices, giving engineers and administrators more options in the equipment they can install where space is a critical parameter."
Exceptionally rugged and compact, the new DTD power converters are shielded from industrial environments within an IP30 metal housing able to withstand a temperature range of -40°C to 75°C , along with exposure to shock and vibration. With an eye on minimizing downtime, the converters are safeguarded against poor power quality with protection against damaging short circuits, overload, reverse polarity, and under voltage. A built-in SVR allows adjustment of output voltage to address specific device needs.
Antaira DTD converters are not limited to one application but are designed to resolve power problems across a series of markets. Both the DTD-480-0953-T and DTD-360-0953-T are optimized for diverse power needs, ranging from factory automation and video surveillance to solar and mobile networks. While the converters are not a direct substitute for a solar panel power regulator, they can help boost the power from a 12- or 24-volt DC battery power storage to a more useful 48-52 VDC compatible with other electronic devices such as laptops. When installed on buses the converters will not only boost power but also clean up the power that may be dirty from old alternators or other electronics on the same circuit, making them precise and stable for better performance.
Learn more at www.antaira.com.
Antaira DTD DC-DC power converters are ideal for applications where 12-24 volts of DC power is available but certain systems require 48 to 52 VDC to operate. This type of application can be found where PoE products are being used in Automation, Automotive and solar applications.
About Antaira Technologies
Antaira Technologies is a leading developer and manufacturer that provides high-quality industrial networking and communication product solutions. Since 2005, Antaira has offered a full spectrum of product lines that feature reliable Ethernet infrastructures, extended temperature tolerance, and rugged enclosure designs. Our product lines range from industrial Ethernet switches, industrial wireless devices, Ethernet media converters, and serial communication devices. Our vast professional experience allows us to deploy a wide array of products worldwide in mission-critical applications across various markets, such as, automation, transportation, security, oil & gas, power/utility, and medical. Antaira is ISO9001 certified.