Anniversary: Vision Components turns 20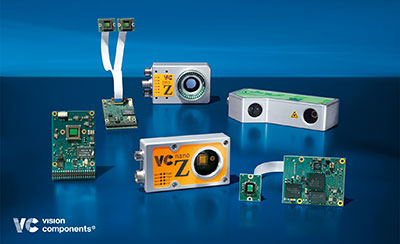 Keeping sights set on rapid technical developments
Ettlingen – Looking back at two decades of leadership in industrial image processing, Vision Components celebrates it's 20th anniversary this year. The company was founded in 1996 as Vision Components GmbH by Michael Engel, whose pioneering invention of the first industrial Smart Camera VC11 heralded the embedded era in image processing. Whether it's the perfect cut of fish fillets, precise automated "bin picking" or reliable decoding of license plates – the team at Vision Components develops customized components for successful embedded vision solutions in a great variety of industries, and advises customers how to seize the full potential for their application.
Over the years, the industry pioneers have time and again succeeded in developing innovative hardware as well as software products. Notably, Vision Components freely programmable OEM Board Cameras and intelligent high-performance cameras frequently enable the use of image processing solutions in more and more industries where this technology is an entirely new concept. Landmark achievements also include not only the first Smart Camera, but also the first Vision Sensor, and now the recently developed Z-series. This camera series is based on a Xilinx SoC module equipped with a dual-core ARM processor and features FPGA logic. This opens up completely new options of FPGA programming, with huge performance gains coming within reach for many applications. Vision Components provides a custom Linux OS and the versatile software library VCLib, an in-house development, and also supports customers with extensive free application know-how.
About Vision Components
Founded in 1996 by Michael Engel, inventor of the first intelligent camera for industrial applications, Vision Components GmbH is a leading supplier in the field of machine vision. Branches and distributors represent the Ettlingen-based company worldwide in more than 25 countries. Vision Components develops and distributes intelligent, network-compatible real-time Smart Cameras which are able to operate without a PC. These embedded vision solutions can be easily integrated into almost any machine or plant. Customers can choose between models with ARM processors and VC Linux firmware or DSP-based models with the proprietary VCRT operating system. The product portfolio includes Smart Cameras with or without a protective housing, single board cameras, and vision sensors. Vision Components also develops custom-tailored machine vision solutions for a wide range of applications. Amongst others, typical applications include quality inspection and automation. Furthermore, VC provides free software libraries for many applications including license plate recognition, motion capture, decoding, measurement, and positioning.
Company Contact
Miriam Schreiber
Tel: +49 7243 / 216 716