Analog NTSC/PAL Embedded Vision System with Intel® Core™2 Duo 2.26 GHz Processor
The EOS-2000 is specifically designed for high computing power and multi-camera imaging applications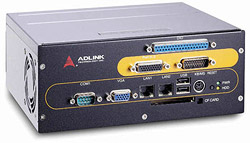 Wednesday, February 2, 2011, San Jose, CA – ADLINK Technology, Inc., a leading provider of machine vision platforms and boards, announced the release of their latest addition to their product line of embedded vision platforms, the EOS-2000, an embedded vision system that features an Intel® Core™2 Duo processor and four independent analog NTSC/PAL ports with real time image acquisition rates up to 120 fps. The EOS-2000 is ideal for industrial automation applications that require high computing power and multi-camera imaging, such as inspection and alignment.
The EOS-2000 is a compact-size 200 (W) x 165 (D) x 85 (H) mm (7.9" x 6.5" x 3.3") vision system supporting four vision channels, making it ideal for space critical applications. Compared with smart cameras solutions in the market, the EOS-2000 provides a lower unit cost per channel with more flexible system configurations, as well as software development kit support that allows users to develop their own machine vision solutions.


The EOS-2000 also features rich I/O support, including two RS-232/422/485 ports, four USB ports, 32 isolated digital I/O lines, and dual storage options (a SATA interface and a CompactFlash slot) for factory-floor networks. By selecting long-life embedded components and incorporating system monitoring components to monitor CPU temperature, fan speed, and system responsiveness, the EOS-2000 provides a very robust and reliable platform for mission critical applications. ADLINK's embedded vision system is a ready-to-deploy vision solution.
"As simultaneous vision inspection is a common requirement on a production line, the ADLINK EOS-2000 offers a cost-effective solution for multi-camera vision applications. Customers can reduce their total system costs with the EOS-2000 through its higher computing power, multi-camera support, lower unit cost, and development software support compared with traditional industrial computers with frame grabbers and smart cameras," stated Neil Chen, Vision Solutions Product Manager at ADLINK.
The EOS-2000 system can be developed around Microsoft® Windows® 7 and Windows XP Embedded (XPe), with support for file-based write filter (FBWF) to provide a stable and secure software operating environment.
Pricing and Availability
The EOS-2000 is currently available starting from $1,750.
Note: Intel and Intel Core are trademarks or registered trademarks of Intel in the United States and some other countries.
About ADLINK
ADLINK Technology provides a wide range of embedded computing products and services to the test & measurement, automation & process control, gaming, communications, medical, network security, and transportation industries. ADLINK products include PCI Express®-based data acquisition and I/O; vision and motion control; and AdvancedTCA®, CompactPCI®, and Computer-on-Modules (COMs) for industrial computing. With the acquisition of Ampro Computers, Inc., ADLINK also provides a wide range of Extreme Rugged and Rugged Single Board Computers, Computer-on-Modules and Systems under the brand name Ampro by ADLINK. ADLINK strives to minimize the total cost of ownership (TCO) of its customers by providing customization and system integration services, maintaining low manufacturing costs, and extending the lifecycle of its products. ADLINK is a global company with headquarters and manufacturing in Taiwan; R&D and integration in Taiwan, China, and the US; and an extensive network of worldwide sales and support offices.


ADLINK is ISO-9001, ISO-14001, ISO-13485, and TL9000 certified, is an Associate Member of the Intel® Embedded Alliance, an Executive Member of PICMG, a Sponsor Member of the PXI Systems Alliance, and a Member of the AXIe Consortium. ADLINK is a publicly traded company listed on the TAIEX Taiwan Stock Exchange (stock code: 6166).
Embedded Vision
This content is part of the Embedded Vision curated collection. To learn more about Embedded Vision,
click here
.