AMT Provides Robotic Material Handling and Custom Automation for Thermoforming Customer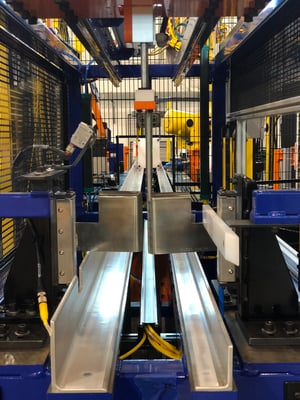 A large player in the food and beverage industry contracted AMT to design automation to fit between and connect two existing thermoforming processes. The automation was rolled out to multiple production lines in a facility with a 24/7, high speed continuous production facility.
The original project required automation in two discreet areas. In the first area, AMT engineers designed automation to receive product from a continuous thermoforming and trimming line, and separate the accumulated product into sleeves. A large 6-axis robot delivered the sleeves to an upstream process. Although the process for the new automation was straightforward, implementing it was anything but. AMT engineers quickly became experts in the material handling of closed-cell polystyrene (ex. Styrofoam), managing environmental factors such as temperature and humidity to minimize or eliminate downtime. An additional constraint was that the new automation had to fit within the existing equipment's layout, resulting in a unique design for each of several lines.
The second area to receive new automation was the pack out of finished product. The sleeves from area one accumulated and were organized into stacks of nested product, then were loaded onto pallets in a specific quantity before being stretch wrapped and sent to the warehouse. Due to the inherent nature of polystyrene, the same number of units could yield a stack length which varied by up to eight inches. One result of this variation was that the stacks of product could bow and cause crashes; AMT engineers solved this problem by adding an actuated hold-down mechanism to the process.
Because of the high-speed nature of the production in this facility, several enhancements were added to reduce downtime and aid error recovery. One of the enhancements was a custom human-machine interface (HMI), which allowed the customer to tune and streamline the process.
After the equipment was commissioned and in use for several months, AMT was hired to rewrite the HMI interface to further customize the automation's ability to adapt to variables that previously required plant staff input. The new HMI program improved the process control by adding detailed diagnostics, simplifying error recovery and enhancing operator ease of use.
Read the full article written by Vice President of Systems Rick Vanden Boom, which appears in Control Engineering and CFE Media's 2020 Global System Integrator Report: https://bit.ly/Rick-article-2019