AMP-204C/AMP-208C DSP-based 4/8-axis Advanced Pulse-train Motion Controllers
Delivering enhanced precision control, easy-to-use utility, and superior cost-performance ratio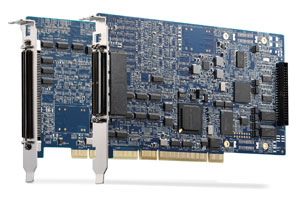 San Jose, CA – ADLINK Technology, Inc., a leading provider of embedded computing products for test & measurement, today announced the release of its new AMP-204C and AMP-208C digital signal processing (DSP)-based 4/8-axis advanced pulse-train motion controllers, enabling high pulse output and encoder input frequency up to 6.5 MHz and 20 MHz, respectively. Leveraging ADLINK's Softmotion™ technology and easy-to-use utility, the AMP-204C/208C offer comprehensive and application-oriented motion functionality, reducing development time and cost up to 25% while maintaining superior throughput and accuracy. In addition, customer-reported testing shows a reduction in time required for action completion using the AMP-204C/208C as compared to other motion controllers, enabling at least 10% growth in productivity. The AMP-204C/208C feature high-speed, enhanced precision control and competitive pricing for a superior cost-performance ratio.
ADLINK's AMP-204C/208C feature advanced synchronous motion control performance combined with point-table functionality integrating multi-dimensional interpolation; for instance, 3D linear/circular/spiral interpolation with enhanced trajectory and velocity planning is used for contouring applications in semiconductor, display, and conventional manufacturing industries. The AMP-204C/AMP-208C also support pulse-width modulation (PWM) control with three different control modes for frequency or duty cycle, benefiting laser engraving/marking/cutting applications. Moreover, hardware-based, high-speed position comparison and trigger output up to 1 MHz are applicable in AOI applications, and16 additional onboard digital input & digital output channels make the AMP-204C/208C more economical than a full D I/O card.
The AMP-204C/208C's MotionCreatorPro 2™ Windows-based application development software package provides a Setup Wizard, shortening system installation and evaluation time and allowing full monitoring of onboard DSP and I/O consumption via a system diagnostics page. Powerful sampling page and graphic tools deliver real-time motion and I/O status and conduct further motion flow analyses.
With the DIN-825-GP4 terminal board, the AMP-204C/AMP-208C can connect to individual servos, such as the Mitsubishi J4, Yaskawa Sigma V, Panasonic MINAS A5, and Delta A2+ series, through specific cabling. The AMP-204C/AMP-208C is currently available and supports Microsoft® Windows® XP, Microsoft® Windows® 7 and Microsoft® Windows® 8.
For more information on ADLINK motion controllers, please visit http://www.adlinktech.com/Motion-Control
About ADLINK
ADLINK Technology provides a wide range of embedded computing products and services to the test & measurement, automation & process control, gaming, communications, medical, network security, and transportation industries. ADLINK products include PCI Express®-based data acquisition and I/O; vision and motion control; and AdvancedTCA, CompactPCI, and Computer-on-Modules (COMs) for industrial computing. With the acquisition of Ampro Computers, Inc., ADLINK also provides a wide range of Extreme Rugged and Rugged Single Board Computers, Computer-on-Modules and Systems under the brand name Ampro by ADLINK.
ADLINK strives to minimize the total cost of ownership (TCO) of its customers by providing customization and system integration services, maintaining low manufacturing costs, and extending the lifecycle of its products. ADLINK is a global company with headquarters and manufacturing in Taiwan; R&D and integration in Taiwan, China, and the US; and an extensive network of worldwide sales and support offices.
ADLINK is ISO-9001, ISO-14001, and TL9000 certified, is an Associate Member of the Intel® Intelligent Systems Alliance, an Executive Member of PICMG, and a Sponsor Member of the PXI Systems Alliance. ADLINK is a publicly traded company listed on the TAIEX Taiwan Stock Exchange (stock code: 6166).