Ametek - G30A Planetary Gearbox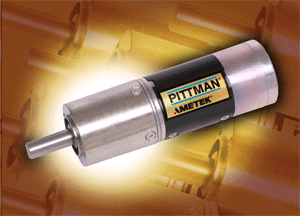 Pittman® G30A planetary gearboxes are designed with maximum torque density and durability in mind. These small gearboxes are engineered to complement 5 different series of Pittman motors allowing a wide range of output torques and speeds.
The mounting profile is 30.5mm (1.20-in) in diameter, or 38.0mm (1.50-in) square when the optional mounting flange is used. Gearbox lengths vary depending on the gear reduction and range from 33.7mm (1.33-in) to 51.2mm (2.02-in). Fourteen standard reduction ratios are available ranging from 4:1 to 1296:1 and allow a maximum output load of 2.47Nm (350 oz-in) to 8.83Nm (1250 oz-in). Custom gear ratios can also be configured to meet just about any application need.
Carefully engineered for challenging applications, the G30A planetary gearbox incorporates sintered steel planet gears to promote high torque capacity and low audible noise while maintaining a compact design. Single piece carrier plates with integral gear posts and sun gear can be arranged to achieve many different reduction ratios. The gearbox output is through a 416 stainless steel shaft and a sintered metal output bearing. Optional ball bearings are available for high radial loads.
The G30A gearbox is a perfect complement to the Pittman 8220, 8690, 8540, 9230, and 1300 Series brush and brushless DC motors. When the G30A is combined with the latest motor materials and manufacturing technology such as high energy neodymium magnets, silicon lamination steel, and advanced winding techniques to maximize slot fill, a high-efficiency system is created perfectly suited for high-tech motion applications.
About Pittman
Pittman is part of the AMETEK Precision Motion Control division. Pittman products are designed into a wide variety of high tech motion applications including lab automation, medical devices, communications equipment, semiconductor processing equipment, aerospace systems, and many other applications where precision motion is critical. The Pittman motor line spans a wide variety of dc motor sizes and technologies ranging from 12mm diameter brushless slotless dc motors used in high speed medical applications to large NEMA frame dc servo motors used in sophisticated automation equipment. Pittman also offers a wide variety of complementary products such as gearboxes, encoders, brakes, and drive systems.