American Control Electronics Releases PML Series: Microcontroller-Based Brushless DC Motor Controls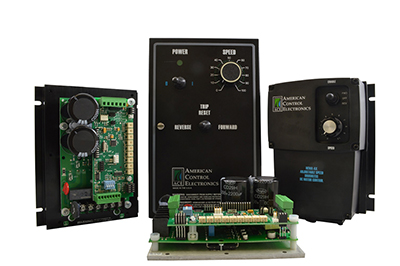 SOUTH BELOIT, IL – American Control Electronics (ACE) has introduced the PML Series, a new family of versatile, feature-rich, configurable controls for brushless DC motors. PML drives can control motors that range from 90 to 280 VDC, up to 5 amps/1.5 HP, using either 115 VAC or 230 VAC line sources. On-board trim pots allow operators to quickly set maximum and minimum speeds, acceleration and deceleration rates, motoring and regening current limits, as well as the proportional and integral feedback gains.
An onboard microprocessor allows for custom programming the PML Series for tasks as simple as changing the purpose of a jumper or trim pot, or as complex as programming an entire application-specific routine. The PML also seamlessly integrates PLC-like functionality into operations, allowing users to eliminate the need for a separate PLC altogether or enhance a system that currently doesn't have one. These controls are positioning-application capable, with feedback sampling rates of 16Khz. Each drive is designed for feedback from 120° hall effect sensors and can be commanded with a wide range of analog inputs with ACE's built-in isolation.
PML Series Highlights:
UL 61800-5-1 listed (NOTE: this standard will obsolete UL 508C in 2020)
NEMA 4X packages available in both steel and plastic
Doubler mode: Able to convert 115 VAC input into 280 VDC output.
Isolated inputs: Accepts floating or grounded signals 0 ± 5 VDC, 0 ± 10 VDC or 4-20 mA
Diagnostic LEDs: LEDs for power and status (e.g. undervoltage, overvoltage, short circuit/current trip, overheating warning/trip)
Thermally protected: Drive recognizes when overheated as a result of overload
Hall effect sensors: 120°, 5 VDC, 75 mA combined
SEPARATE current limits for operation and regen braking
16-bit microcontroller on board, ready for mission-specific configurations
About American Control Electronics
American Control Electronics (ACE) is an electronics manufacturer located in South Beloit, IL and parent company for the Minarik Drives brand. American Control Electronics designs and produces a wide variety of AC & DC electronic control systems and power products used in industrial, commercial, EV, medical, and home automation markets. American Control Electronics has also developed several "Green" products that control motors from battery and/or photovoltaic power. The Minarik Drives brand has a 60-year reputation and is the standard for products in its class. American Control Electronics designs unique product solutions to meet the specific needs of its customers.
All products are proudly designed and built in South Beloit Illinois.