AMC Feature a Complete Family of POWERLINK Servo Amplifiers to 27.4kW Output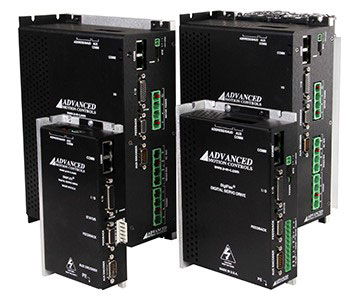 Ethernet POWERLINK is an open standard fieldbus for real-time Ethernet-based motion control created by B&R (Bernecker+Rainer Industrie-Elektronik) designed to give users a single, consistent, and integrated means for handling all communication tasks in modern automation. A POWERLINK network integrates all automation components such as PLCs, sensors, I/O modules, motion controllers, safety controls, and HMI systems.
The Ethernet POWERLINK family of DigiFlex® Performance™ (DP) digital servo drives from Advanced Motion Controls provide a wide range of options for servo system solutions. DPP/DZP drives deliver peak power output from 1.5 to 27.4kW, and support an array of feedback and motor options, offering a versatile blend of cutting edge technology and proven results.
Models include open frame DC input varieties and packaged AC input varieties. These motor controllers utilize POWERLINK, Modbus TCP, or Ethernet communication and are commissioned with AMC's user-friendly DriveWare® software via a USB interface.