Aluminum PCB Trays for Application-specific Requirements
rong>Phoenix Contact's expanded line of PCB trays now meets a wider variety of needs

MIDDLETOWN, Pa. – Phoenix Contact's extensive line of PCB trays now includes two new aluminum versions, giving design engineers more options to meet specific application needs. The UM-ALU and the HC-ALU are both made of aluminum extrusion, ideal for operation in high temperatures and noisy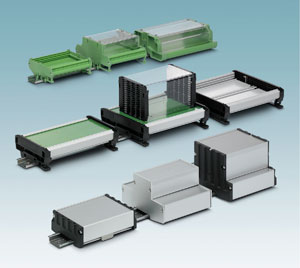 environments.

The UM-ALU features multiple PCB mounting slots in both the upper and lower sections to accommodate various component heights. Simple accessories include side and foot elements for DIN rail-mounting.

The IP65-rated HC-ALU features a side element to convert a handheld enclosure for a panel-mount solution. It comes in four different widths and lengths, with up to 14 PCB mounting slots to meet various component heights. Split housing construction allows for integration of a keypad or other components that allow for user interaction with the device.

The new aluminum options join Phoenix Contact's existing PCB trays:


The UM profile – a cost-effective PVC tray with three slots to accommodate various component heights; optional covers are available to span the length of the PCB for larger widths
UM-Basic – also made of PVC, the Basic option also includes snap-on side elements for quick assembly, eliminating additional hardware and reducing assembly time
UM-PRO – made of extruded polyamide for devices operating up to 100 degrees Celsius, the UM-Pro also has snap-on side elements; its flat design supports the construction of flat electronic components and their assembly on standard DIN rail or directly on the panel
About Phoenix Contact
Phoenix Contact develops and manufactures industrial electrical and electronic technology products that power, protect, connect and automate systems and equipment for a wide range of industries. Phoenix Contact GmbH & Co. KG, Blomberg, Germany, operates 50 international subsidiaries, including Phoenix Contact USA in Middletown, Pa.