Alternative Rock Band 30 Seconds to Mars Wowed the Audience at the 34th Annual MTV Video Music Award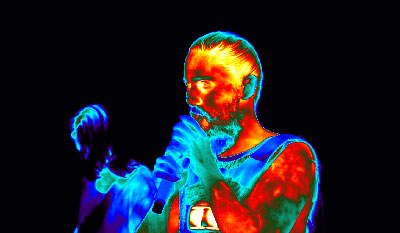 Alternative Rock Band 30 Seconds to Mars wowed the audience at the 34th Annual MTV Video Music Awards on Sunday at The Forum in Inglewood, CA. With MTV's "Brace for History" motto, MoviTHERM helped shape that message by being part of the first ever thermal video broadcast.
Irvine, CA- For the first time in broadcast history, an entire music performance was broadcasted live using FLIR HD thermal video cameras. MoviTHERM's engineering team was hired to film the event and broadcast live at the MTV VMA Awards at The Forum, Inglewood, CA on Sunday evening.
Thermal Image above shows Jared Leto (Lead Singer) performing live during the MTV VMA award. His band Thirty Seconds to Mars released a brand-new song called "Walk on Water".
This performance was a medley of beautifully choreographed art and high-end scientific thermal imaging. The MoviTHERM engineering team developed custom software to allow for automatic temperature range fading and other camera controls. This software was a crucially important piece and allowed MoviTHERM's engineers to make quick adjustments based on cues from the video director during the broadcast. MoviTHERM used two FLIR A8300sc and two FLIR SC8300 HD cooled cameras. These cameras have a mid-wave IR detector, sensitive in the 3um to 5um spectral range. The detector in the camera is cryogenically cooled to about 75 Degrees Kelvin and has the ability to detect temperature differences down to 0.018mK or better. Even though measuring absolute temperature was not part of the requirement for this video performance, the footage is stunning and captivated the audience.
About MoviTHERM - Advanced Thermography Solutions
MoviTHERM is a FLIR Systems, Inc. Camera Distributor, Systems Integrator and Product Development Company. The company offers thermal cameras and turnkey thermal imaging solutions for remote monitoring, automated thermal imaging and non-destructive testing.