Alta-AN1 Analog Frame Grabber
rong>BitFlow Analog Frame Grabber is Cost-Effective Alternative to Digital Cameras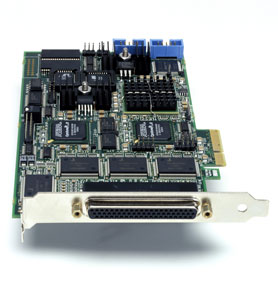 WOBURN, MA -- Bitflow is offering cost-conscious semiconductor and industrial vision OEMs an inexpensive alternative to digital camera systems with its Alta-AN1 analog frame grabber.

Amazingly versatile and requiring only simple cabling, the Alta-AN1 can acquire from almost any analog camera on the market, from high speed asynchronous-reset monochrome cameras to super high resolution color HDTV cameras, saving the user the cost of a digital system (camera, cabling and frame grabber) where analog resolution will suffice.

The Alta-AN1 is a half-size x4 PCI Express board supporting total data rate up to 1.0 GB/S, and can be configured for unique triggering modes, gain/offset and destination buffers. It features a discrete analog front end with three Analog-to-Digital converters, plus provides power to the camera to further simplify its deployment.

BitFlow supports the Alta-AN1 with its Software Development Kit (SDK), available for both 32-bit and 64-bit Windows platforms. The SDK is board family generic, meaning it will work with all of BitFlow's current and future frame grabbers. The kit provides drivers, DLLs and configuration utilities for those interested in using third party software.

While the Alta-AN1 supports a single camera, BitFlow also offers the Alta-An2 for two cameras, and the Alta-AN4 for four. All BitFlow frame grabbers are manufactured in the United States.

For more information, please call 781-932-2900 or visit www.bitflow.com.

About BitFlow
BitFlow has been developing reliable, high-performance Frame Grabbers for use in imaging applications for the past 16 years. BitFlow is the leader in Camera Link frame grabbers, building the fastest frame grabbers in the world, with the highest camera/frame grabber densities, triggering performance, and price. With thousands of boards installed throughout the world, into hundreds of imaging applications, BitFlow is dedicated to using this knowledge and experience to provide customers with the best possible image acquisition and application development solutions. BitFlow, located in Woburn, MA, has distributors and resellers located all over the world including Asia, Japan, and Europe.