allPIXA™ pro Color Line Scan CCD Camera
rong>Chromasens Unveils World's Fastest CCD Color Line Scan Camera

BURLINGTON, MA -- Chromasens today announced the allPIXA™ pro, the world's fastest, most powerful color line scan CCD camera for high-speed machine vision applications on the market today.

The allPIXA pro, with line rates up to 87kHz in standard models and up to 148 kHz in special OEM configurations, allows for a maximum 300% increase in speed compared to conventional CCD line scan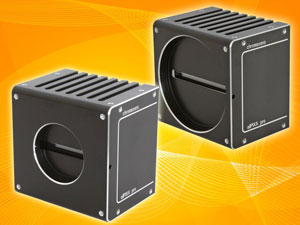 cameras when used in CameraLink Full mode. It also has improved responsivity thanks to upgraded tri-linear CCD sensors, while retaining the best legacy features of the original Chromasens allPIXA in a new more compact footprint. Several models are available in resolutions from 2048 x 3 to 7300 x 3 pixels.

"Our new allPIXA pro high-performance color line scan cameras feature the latest generation in image processing technology and electronics to meet the line rates necessary for today's high performance applications," said Martin Hund, CEO of Chromasens. "It can meet the throughput rate demands of high-speed print verification, tile inspection, food and fruit sorting, flat panel inspection, and other machine vision applications, so more products can be inspected in less time."

Chromasens allPIXA pro cameras offer excellent color accuracy combined with flexibility to help customers solve challenging inspection problems. Continuous white balancing compensates for minute color differences in different types of light, while a full range of programmable features offer precise control over key performance variables. In addition, the camera can be mounted in multiple angles thanks to its internal keystone correction. It all adds up to unprecedented speed and unmatched vision power on the plant floor.

For more information, visit www.chromasens.com. In the United States, call North Coast Technical at 440-729-7540. In Canada, 613-821-4603. Outside the United States and Canada, 339-234-5030.

About Chromasens GmbH
Founded in 2004 as a former division of Siemens AG, Chromasens GmbH designs, develops and produces innovative image capturing and processing systems to satisfy the most stringent of demands. Chromasens' expertise lies in the development of both components and systems. The optical, electronic and mechanical elements of high-performance cameras and illumination systems are perfectly adapted to suit the specific tasks faced by each individual customer. The company is based in Constance, Germany, and is ISO 9001 certified. Chromasens offers professional advice and support throughout each phase of the project cycle to its direct and project customers who require customized, individual image capturing solutions. The company's standardized image processing components are distributed worldwide via certified value-added distributors. For further information, please visit the Chromasens website.