Allied Vision Technologies Welcomes 200th Employee
rong>Customer Service Executive strengthens AVT Asia team.

Allied Vision Technologies reached another milestone on March 16, 2012 as the company welcomed its 200th employee. Jessica started as a Customer Service Executive at AVT Asia's office in Singapore. "I am very excited about this new professional challenge at AVT", she said. The 23-year-old Chinese Indonesian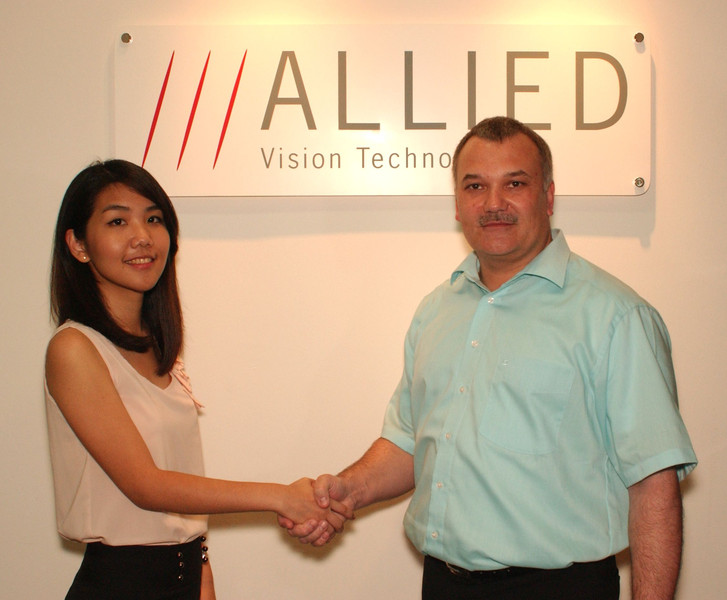 attended her tertiary education in Singapore and holds a degree in Economics and Finance. Jessica was welcomed by Frank Grube, President and CEO of Allied Vision Technologies, and Boon-Keng Teng, Managing Director of AVT Asia.

Continued Growth
AVT keeps growing in the worldwide machine vision market. Last year's acquisition and integration of VDS Vosskühler of Germany strengthened the position of the camera manufacturer in the infrared market.
Another expansion field is the booming Asian market. Allied Vision Technologies opened its own subsidiary in Singapore in July 2010 in order to better serve Asian customers with a local sales and technical support team. It is not a coincidence that AVT's 200th employee is based in that region.

Asia-Pacific: Market of Future Growth
"The Asian market still offers huge growth opportunities", commented Frank Grube. "Alone in the first 3 months of 2012, we hired three new employees to strengthen our Singapore team. With Jessica's support, we look forward to further improve our customer service in the Asia-Pacific region".