Allied Vision Technologies Expands its Ahrensburg Location
rong>R&D Center increases by 100 m², more engineers sought in Ahrensburg, Germany.

Allied Vision Technologies is expanding its R&D Center in Ahrensburg near Hamburg. Beginning August 2011, the camera manufacturer's branch location will occupy the entire first upper floor of the City Center Ahrensburg (CCA) at Klaus-Groth-Straße 1. This will open up an additional 100 m² (1,080 sq. ft.) of space for offices and laboratories.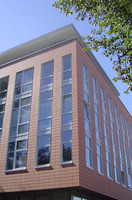 Strong growth in the imaging industry
The additional space is urgently needed. The worldwide market for digital cameras for industrial and scientific applications is booming, and Allied Vision Technologies (AVT) is further expanding its position as one of its leading manufacturers. Despite a minimal drop in demand during the crisis year of 2009, in 2010 the company posted an increase in sales of just over 60% compared to the previous year.

For AVT's engineers and technicians, that means more projects and more product and software development. Due to increased demand, several new colleagues were hired over the past few months and more qualified personnel are still being sought.

"In contrast to many of our competitors, we didn't eliminate any positions during the financial crisis. Quite to the contrary, we invested in research and development in order to be able to profit from the market recovery with attractive products," explained Frank Grube, President and CEO of Allied Vision Technologies. As the economy rebounded, the number of employees increased by leaps and bounds, and what was originally considered generously spacious work area had to be expanded sooner than expected. "We had anticipated growth, but not to this degree," said Grube.

Engineers wanted
In Ahrensburg, qualified personnel are still wanted. There are six positions open at this location alone, mostly in hard- and software development.