Allied Vision Technologies Appoints New Ocean as Distributor in Vietnam
rong>Partnership to improve customer service in growth-market Vietnam.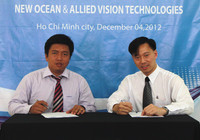 Allied Vision Technologies Asia Pte Ltd. (AVT) and New Ocean Automation System Ltd. signed a distributor agreement on December 4, 2012 in Ho Chi Minh City. Effective immediately, New Ocean will be an official distributor of AVT cameras in the Vietnamese market.

New Ocean is specialized in providing automation solutions and software development services to the industrial plants, buildings. Being the first vision system supplier in Vietnam, the company will continue their success in expanding their products and services in 2013.

Vietnam: a growing market for machine vision

Vietnam is a fast-growing economy within the Asia-Pacific region, with a strong growth of manufacturing industries. "We see a high growth potential for machine vision applications in this country", says Boon-Keng Teng, Managing Director of Allied Vision Technologies Asia. "We demonstrated our commitment to the Vietnamese market at the Nepcon Vietnam show in October and are delighted to have found a strong local partner with New Ocean Automation, who will help us offer the highest level of service to Vietnamese customers".

Truong Trieu Thuan, Operation Manager of New Ocean, is also delighted about the agreement. "New Ocean Automation System is committed to offering its customers world-class technology and service. Adding machine-vision cameras from a world-leading manufacturer like AVT to our portfolio will help us deliver state-of-the-art solution to our clients", he commented.