Allied Vision Technologies and Data Vision Celebrate 10 Years of Partnership
rong>Leading machine vision solutions provider in Benelux has been distributing and servicing AVT cameras since 2003.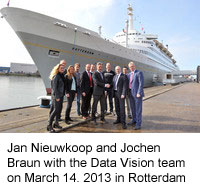 Allied Vision Technologies (AVT) and Data Vision celebrated the 10th anniversary of their distribution partnership at Data Vision's new headquarters in Rotterdam on March 24, 2013. Back in 2003, both companies signed a distribution agreement for AVT machine vision cameras in the Netherlands, Belgium and Luxemburg.

Pioneering Digital Machine Vision in Europe
Data Vision was one of the very first distribution partners of Allied Vision Technologies outside Germany after the company started developing and manufacturing its own camera range. The Marlin camera range introduced in 2003 was a best-selling machine vision camera that paved the way for the migration of machine vision systems from analog to digital camera interfaces with its FireWire interface (IEEE 1394).

"Over the last ten years, we have been very successful and have grown to become one of the world-leading machine vision camera vendors. This would not have been possible without our strong relationship to committed distribution partners", said Jochen Braun, Sales Director EMEA of Allied Vision Technologies. "Data Vision was one of the first partners who pioneered international sales with AVT. Over the years, they have become a member of the AVT family with expert knowledge of our products and tight personal connections within the AVT organization, delivering the high level of service AVT customers are entitled to expect".

Now part of HPR Techniek within the Batenburg Group, Data Vision can leverage on a larger organization for an even higher level of customer service. "We are proud to be a partner of Allied Vision Technologies and look forward to the next ten years of success", said Jan Nieuwkoop, Sales Director of Data Vision. "AVT and Data Vision share the same drive for excellence in product quality and service. The co-operation has always been very trustful and fruitful for both parties but also – and not least – for our customers".