Allied Vision Technologies Achieves ISO 13485 Certification for Medical Equipment
Camera development and manufacturing comply with quality assurance norm for medical devices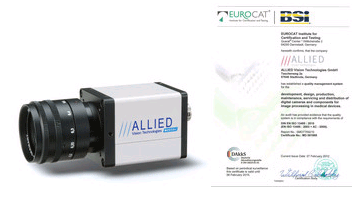 Leading machine vision camera manufacturer Allied Vision Technologies (AVT) now complies with the ISO 13485:2010 norm for the development and production of digital cameras and components used for image processing in medical devices. The company's quality management system was successfully audited by Eurocat Institute for Certification and Testing in November 2011 and the certificate delivered early February 2012. The scope of the certification covers the whole product life cycle from design to service and repair via manufacturing and sales.
Major application market
Medical imaging has been a key market for AVT for many years. With applications such as ophthalmology, microscopy, dental imaging, 3D scanning or motion capture for orthopedic diagnosis, the company has established a strong reputation in the medical device market, which has become a major sales area beyond industrial inspection.
"Although we have been complying to the highest quality standards for years and enjoy a very good reputation in the industry, we felt it was time to have not only the ISO 9001 certificate but also the ISO 13485 certificate for medical devices in place", explains Dr. Volker Hartman, Total Quality Manager of Allied Vision Technologies. "This validation according to an international standard will help us win even more medical business in our growth markets Asia and the Americas."
Best-in-class quality cameras
The ISO 13485 certification is just another confirmation of Allied Vision Technologies' leadership for product and service quality in the machine vision camera market. Allied Vision Technologies' Quality Management system has been ISO 9001 certified for many years. All AVT cameras are designed and manufactured in the company's own R&D centers and production facilities in Germany and Canada according to the highest quality standards.
Beyond the quality of the cameras themselves, AVT customers can rely on a high level of service and technical support. "Our strong commitment to service has always been a key factor of success for us", explains Dr. Hartmann. "We have recently expanded our support teams in Germany, North America and Singapore. Whatever the time zone, night and day, there is always somebody somewhere ready to help."