Allied Vision introduces Goldeye Short-wave Infrared Cameras with Camera Link Interface at ITE Yokohama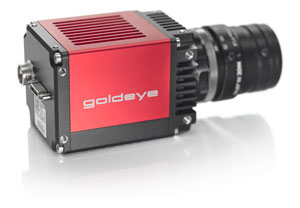 In addition to Goldeye models with GigE Vision Interface, Allied Vision debuts its high-performance short-wave infrared (SWIR) camera series for the first time with Camera Link interface at the International Technical Exhibition on Image Technology and Equipment (ITE) 2015 in Japan.
Allied Vision introduces its infrared camera Goldeye with Camera Link Interface at the International Technical Exhibition on Image Technology and Equipment (ITE) 2015, which takes place on December 2nd to December 4th, 2015 at the Convention Center Pacifico Yokohama in Japan.
Goldeye cameras are equipped with InGaAs sensor technology making them sensitive in the short wave infrared spectrum ranging from 900 to 1,700 nm. Besides GigE Vision, which is a common interface in the European Machine Vision industry, Allied Vision is expanding its Goldeye camera series with the Camera Link technology. This interface allows various industries to use the camera with their established machine setup without changing the camera interface.
Goldeye CL cameras are equipped with a Camera Link Base interface featuring an SDR connector. They have the same compact housing dimensions (55mm x 55mm x 78 mm), features and performance as the GigE Vision models. Goldeye CL cameras are fully compliant with standard Camera Link frame grabbers, including the latest generation of frame grabbers supporting the GenICam Control Protocol (GenCP).
Goldeye, the new benchmark for short-wave infrared imaging
Allied Vision's Goldeye camera series was completely redesigned in 2014 and has since become the new benchmark for short-wave infrared cameras in the machine vision market. A small form factor and multiple mounting options let the camera fit easily into compact system designs. In addition, standard compliant interfaces (GigE Vision or Camera Link) and comprehensive I/O control options simplify the connection to existing third-party software solutions and the synchronization with other system components. The integrated thermo-electric sensor cooling and several on-board image correction features contribute to the Goldeye's outstanding image quality.
Availability
All Goldeye SWIR cameras with compact housing will be released with Camera Link interface in February 2016, test cameras can be ordered as of now. The addition of a Camera Link interface option further expands the Goldeye family, which now includes following models:
The Goldeye G/CL-008 SWIR is fitted with a QVGA InGaAs sensor (320 x 256 pixels, 30 µm2 pixel size). With frame rates up to 344 fps at full resolution, versatile application fields can be addressed and processes can be sped up. Thanks to its ultra-high intra-scene dynamic range of 75 dB, the camera is ideally suitable for applications requiring to capture simultaneously bright and dark portions of a scene. Due to its very affordable price, cost-sensitive applications, where the lower resolution is sufficient, can benefit from the cameras outstanding performance.
The Goldeye G/CL-032 SWIR with VGA resolution sensor (0.3 Megapixel), 25 µm2 pixel pitch and 100 fps is the all-rounder in the Allied Vision SWIR camera line-up. In addition to a stronger sensor cooling, a high intra-scene dynamic range of more than 73 dB enable users to apply the camera in various application areas and under varying operating conditions. Goldeye G-032 cameras are also available as a COOL version with enhanced sensor cooling (TEC 2) enabling low-noise imaging even at long exposure times.
The Goldeye G/CL-033 SWIR comes also with a VGA sensor, but with a smaller pixel size (15 µm2). The camera delivers images at very high frame rates of 301 fps at full resolution (640 x 512). The Goldeye G-033 earned the Innovators Award 2015 from Vision Systems Design magazine as it's the fastest SWIR camera with GigE interface in the market. Thanks to this high frame rate, many machine vision applications can be sped up to increase productivity, some of which also benefit from the smaller pixel size of the sensor – for example wafer inspection or hyperspectral imaging.
Allied Vision will be represented on the show by three Asian partners: AS Science (Booth 51), Aprolink (Booth 124) as well as DHT (Booth 101). The new Goldeye CL-032 SWIR camera is showcased at the DHT booth.