Allied Vision Demonstrates Vimba 2.0 SDK and Highlights new Mako CMOS and Goldeye SWIR Camera Link cameras at The Vision Show 2016
Allied Vision will be exhibiting at The Vision Show 2016 and demonstrating its software development kit, Vimba 2.0. Also, the latest Mako CMOS camera models and Camera Link Goldeye short-wave infrared camera (SWIR) will be showcased.
Allied Vision will be exhibiting at The Vision Show 2016 in Boston, Massachusetts at the Hynes Convention Center from May 3-5, 2016. Vimba 2.0, the newest generation of Allied Vision's software development kit (SDK), will be demonstrated to highlight its capabilities and features.
Furthermore, the latest models of Mako CMOS cameras and new Goldeye SWIR camera equipped with Camera Link interface will be showcased as well.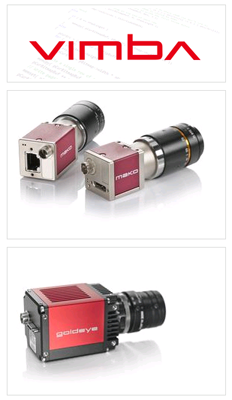 Vimba 2.0: Software integration made easier
Allied Vision's Vimba SDK has always made software integration easy for its camera users. With the release of Vimba 2.0, software integration has become even easier. Vimba 2.0 offers users several new innovative features and user-friendly widgets that make its use easier for both beginners and experts. The new graphical user interface allows first-time users to easily adjust settings such as exposure time, color, region of interest and triggering. For more experienced users, the original GenICam feature list is still available. Vimba 2.0 is compatible with Windows (including Windows 10), Linux and Linux for ARM. It also supports Allied Vision's GigE Vision, FireWire, USB3 Vision and Camera Link interface cameras. Vimba 2.0's architecture allows users to use it on its own or connect to third-party software (e.g., Mathworks, Cognex, MVTec, Norpix, OpenCV, Matrox, and more). Altogether, this makes Vimba 2.0 Allied Vision's best SDK yet. Vimba 2.0 is available free of charge as a download on Allied Vision's website.

Mako CMOS Cameras: Quality made affordable
Allied Vision's Mako camera family has numerous models utilizing the latest CMOS sensor technology. Offering an excellent price to performance ratio, the low-cost Mako is perfect for users looking for a high performance, entry-level camera. The latest entrants in the Mako camera family will be highlighted during the exhibition:
Mako G-234: using Sony's new IMX249 CMOS sensor, the Mako G-234 offers a resolution of 2.4 Megapixels at 40 frames per second using a GigE interface
Mako U-029: equipped with OnSemi's PYTHON 300 CMOS sensor and USB3 Vision interface, the Mako U-029 provides VGA resolution (0.3 Megapixels) at 550 frames per second
Mako U-051: a resolution of 0.5 Megapixels at 391 frames per second is delivered by OnSemi's PYTHON 500 CMOS sensor through a USB3 Vision interface
Mako U-130: fitted with OnSemi's PYTHON 1300 CMOS sensor, the Mako U-130 USB3 Vision camera delivers a resolution and frame rate of 1.3 Megapixels and 168 frames per second respectively.
Mako U-503: providing a resolution of 5 Megapixels at 14 frames per second, the Mako U-503 utilizes Aptina's MT9P031 CMOS sensor using a USB3 Vision interface
Thanks to its small form factor, the Mako is easy to integrate into systems for various applications such as industrial imaging, inspection, or robotics.

Goldeye CL SWIR: An additional interface option for excellent SWIR imaging
Allied Vision Goldeye SWIR cameras are now available with a Camera Link interface. Featuring an SDR connector, Goldeye CL cameras are compliant with standard Camera Link frame grabbers. Goldeye SWIR cameras use InGaAs sensor technology sensitive in the short-wave infrared spectrum of 900 to 1,700 nm and have a compact, ruggedized housing measuring 55mm x 55mm x 78 mm. Goldeye SWIR cameras also offer users several features such as integrated thermo-electric sensor cooling, on-board image correction and comprehensive I/O control opinions. It is great for advanced imaging applications such as hyperspectral imaging, thermal imaging, or laser beam profiling. The following models will have the Camera Link interface option in addition to their Gigabit Ethernet version: Goldeye G/CL-008 SWIR (320 x 256 resolution, 344 frames per second), Goldeye G/CL-032 SWIR (0.3 Megapixel resolution, 100 frames per second), and Goldeye G/CL-033 SWIR (0.3 Megapixel resolution, 301 frames per second).

Booth #721
The Vision Show 2016
May 3-5, 2016
Hynes Convention Center, Boston, Massachusetts, USA

About Allied Vision
For over 25 years, Allied Vision has been helping people to see the bigger picture. Allied Vision supplies camera technology and image capture solutions for industrial inspection, science, medicine, traffic monitoring and many more application areas in digital imaging. With a deep understanding of customers' needs, Allied Vision finds individual solutions for every application, a practice which has made Allied Vision one of the leading camera manufacturers worldwide in the machine vision market. The company has eight locations in Germany, Canada, the United States, Singapore and China and is represented by a network of sales partners in over 30 countries.