Allied Motion Unveils KinetiMaxTM High Power Density (HPD) Outer-Rotor Brushless Motor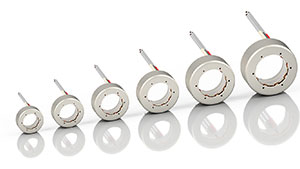 Amherst, NY – Allied Motion Technologies has released the new KinetiMaxTM High Power Density (HPD) motor series.
"We're excited to introduce our new KinetiMax HPD motors to the marketplace," said Mike Wright, Senior Marketing Analyst, Allied Motion. "This outer-rotor brushless motor is designed for high-torque, low-cogging applications like robotics, AGVs, and handheld power tools. With an efficiency rating of over 85% and a high power-to-weight ratio, it's really the ideal motor for any application where weight and battery life are critical."
The KinetiMax HPD series is offered in compact stator-rotors sets. They are available in six frame sizes, with three stack-lengths per size and three windings per stack length. The HPD series also features a large stator bore that allows cabling to easily pass through for applications such as robotic joints. Other highlights include:
Compact frameless stator-rotor sets featuring outer-rotor design
Large diameter, short stack length
Large stator bore to allow cabling to easily pass through
High torque-to-weight ratio
Temperature sensor mounted on stator
Hall commutation board available
About Allied Motion Technologies Inc.
Allied Motion Technologies (NASDAQ: AMOT), designs, manufactures, and sells precision and specialty motion control components and systems used in a broad range of industries within our major served markets, which include Vehicle, Medical, Aerospace & Defense, Electronics and Industrial. The Company is headquartered in Amherst, NY, has global operations and sells into markets across the United States, Canada, South America, Europe, and Asia.
Allied Motion is focused on motion control applications and is known worldwide for its expertise in electro-magnetic, mechanical and electronic motion technology. Its products include brush and brushless DC motors, brushless servo and torque motors, coreless DC motors, integrated brushless motor-drives, gear motors, gearing, modular digital servo drives, motion controllers, incremental and absolute optical encoders, and other associated motion control-related products. The Company's growth strategy is focused on becoming the motion solution leader in its selected target markets by leveraging its "technology/know how" to develop integrated precision motion solutions that utilize multiple Allied Motion technologies to "change the game" and create higher value solutions for its customers.