Allied Motion Releases Advanced DSP-based Brushless Servo Motor Drive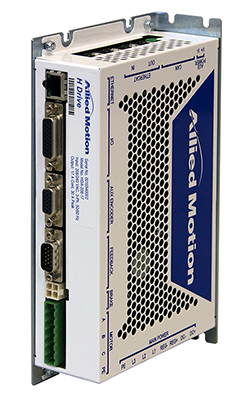 AMHERST, NY – Allied Motion Technologies released the H Series Brushless Servo Motor Drive, featuring Hiperface DSL, multi-feedback device support, and Safe Torque Off (STO) safety options. The H-Drive is part of Allied's new AMS (Allied Motion System) servo packages, and is designed to drive the HeiMotion brushless servo motors and Megaflux series of brushless torque motors. The H-Drive features a digital, DSP-based design for precise motor control and easy commissioning. This new design produces outstanding servo motion performance for robot, medical, industrial, and automation applications.
H-Drive features include:
Power Supply: 110 – 240 VAC
Rated Output Current: 12 continuous Arms, 21 peak Arms
Rated Output Power: Up to 4800 W
Encoder, Resolver and Hall Feedback options
Programable digital I/O (6 In, 3 Out), including 4 high speed discrete I/O
EtherCAT, Ethernet, CAN/CANopen, and ±10V analog communication options
PC-based GUI for commissioning, monitoring, and programming
H-Drives accurately control the torque, velocity, or position of a wide range of servo motors requiring up to 4.8 KW of continuous power.
The ranges of rated performance available with the AMS packages:
Rated shaft power: up to 1950 W
Rated (S1) torque: up to 5.5 Nm
Rated speed: up to 9000 RPM
AMS servo system packages offer the perfect performance ranges to cover the sweet spot of modern servo system applications. Flexibility for the design engineer is built into the AMS line-up with a wide variety of motor configurations, feedback, and communications options from traditional ±10 V analog to CANopen over EtherCAT, and a complement of standard 13 drive I/O. Options for motor feedback include resolver, encoder and Hiperface DSL.
Download the H-Drive data sheet here.
Media Contacts:
Agency: Julie Eleftheriou | Longren & Parks | Mobile: 952.913.3065
Company: Mike Wright | Allied Motion | Office: 716.242.7535
About Allied Motion Technologies Inc.
Allied Motion Technologies (NASDAQ: AMOT), designs, manufactures, and sells precision and specialty motion control components and systems used in a broad range of industries within our major served markets, which include Vehicle, Medical, Aerospace & Defense, Electronics and Industrial. The Company is headquartered in Amherst, NY, has global operations and sells into markets across the United States, Canada, South America, Europe, and Asia.
Allied Motion is focused on motion control applications and is known worldwide for its expertise in electro-magnetic, mechanical and electronic motion technology. Its products include brush and brushless DC motors, brushless servo and torque motors, coreless DC motors, integrated brushless motor-drives, gear motors, gearing, modular digital servo drives, motion controllers, incremental and absolute optical encoders, and other associated motion control-related products. The Company's growth strategy is focused on becoming the motion solution leader in its selected target markets by leveraging its "technology/know how" to develop integrated precision motion solutions that utilize multiple Allied Motion technologies to "change the game" and create higher value solutions for its customers.
For more information, visit www.alliedmotion.com, email: [email protected], or call 716.242.7535.