Allied Motion Completes Acquisition of Heidrive, German Motion System Manufacturer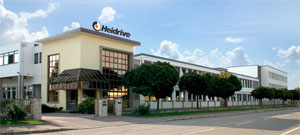 Amherst, New York - Allied Motion Technologies Inc. (NASDAQ:AMOT), a global designer and manufacturer of motion control products, announced that it has officially completed the acquisition of Heidrive GmbH, a drive technology and engineering company, for 20 million euro (approximately US $22 million).
Headquartered in Kelheim, Germany, Heidrive designs and manufactures customized, innovative synchronous motion systems for highly demanding applications such as medical technology, robotics, cargo aviation and building technologies, as well as several commercial applications. Heidrive products include a variety of motors, gears and electronic controls.
Heidrive has approximately 220 employees and manufacturing facilities in both Kelheim and Mrakov, Czech Republic.
Heidrive reports that 2015 revenue reached approximately 29 million euro (US $32 million), up about 8% from 2014. Total assets on December 31, 2015 were estimated to be approximately 10 million euros (US $11 million).
The acquisition is expected to be immediately accretive to Allied Motion.
"This acquisition brings us a well-managed, focused organization that is strategically aligned with Allied Motion and will provide us with many opportunities to advance our growth strategy through new markets, customers, products and capabilities," commented Richard S. Warzala, Allied Motion's chairman and chief executive officer. "Heidrive brings complementary product lines and additional technical competencies in customized motor and system solutions while expanding our sales footprint and customer base in the German market. Heidrive also provides an efficient operational presence in Germany and the Czech Republic that will further enhance our global production capabilities. We further expect to leverage the products and capabilities of the combined company to enhance revenue growth through our One Team sales network around the world."
About Allied Motion Technologies Inc.
Headquartered in Amherst, N.Y., Allied Motion designs, manufactures and sells motion control products into applications that serve many industry sectors. Allied Motion is a leading supplier of precision and specialty motion control components and systems to a broad spectrum of customers throughout the world.